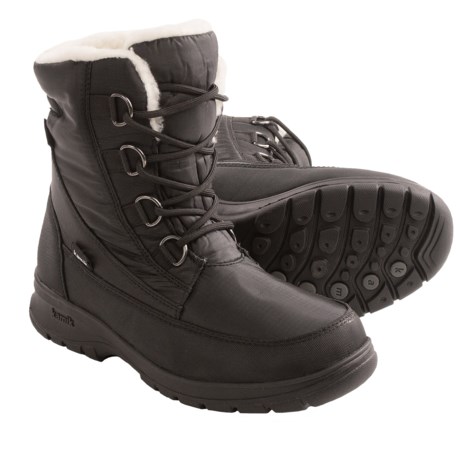 I take a size 9 for my Saucony running shoe. I have size 10 Kamik Baltimore snow boots and they are loose on my feet. There is room for a thick sock and then some. If I were to order again, I would use a size 9 Kamik Baltimore snow boot or go to another design that is made for a tighter fit.
I do like my winter boots to be tight on my foot so that I can hike about. The laces on the Kamik Baltimore snow boots do not extend over the foot, leaving no adjustment in that area. The lace slides easily in the rings, making it easy to get my foot in and out, but makes it difficult to get a high degree of tightness. This boot is good for quick use and shorter walks.

According to information listed under the product Overview and Specs tabs, we recommend half sizes order up. However, we are currently sold out of size 10. Due to the nature of the closeout business, we often receive items in limited quantities. Therefore, popular sizes and colors can sell out quickly. Occasionally we are able to reorder a product, but closeout items are typically unable to be reordered. We suggest signing up for the My Updates as the best way to monitor incoming products. You will receive email notifications of our newest stock items.

In running shoes and most other shoes I wear an 8.5, except for New Balance, in which I take a 9. The 9 for me in these boots was perfect with winter socks. Hope that helps.

Actually, a 10 1/2 would have worked for me.

I take a size 9 in footwear and that is the size I ordered. They fit perfectly.

Order a size 11 if available and wear a thicker sock.