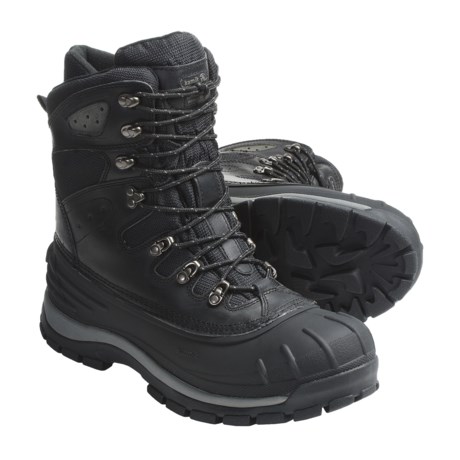 Not Ideal
Reviewed by TheGearDaddy from North of I-80 on Tuesday, December 4, 2012
This is not a Bad Boot, but they scared me off on a couple of fronts...

I should have taken the "runs small" comments more seriously; I have a very low volume foot, yet these still felt tight straight off. I considered whether they might pack out like a good ski boot fit, but didn't want to chance that.

First thing I do with any boot that has a liner is to... pull the liner. These came out with great effort, and getting them back in was almost enough trouble to throw them back in the box loose. If you don't typically pull the liners every night to dry them out, this issue might never come up; and with the WPB membrane, you migt well not. But the last pair of pac boots I bought came w/ two pair and I wore out the lot of 'em. For dry-footed types, it's probably a non-issue. For those of us whose feet sweat a lot, it felt like a deal-breaker in the making.

While I had the liners out, I also noticed some slop in the fit of the inner bootie. This is fairly normal in a WP/breathable membrane boot, as stitching or gluing defeats the purpose of the membrane. But when forcing those liners back in, I couldn't get the inner bootie to smooth out, which felt like a blister waiting to happen. My intention was to wear these for still-hunting in snowy, rugged terrain, and these just felt like a bad bet.

If your primary application is dog-walking or similar, short-term wearings - or maybe for sitting out in moderate cold such as a ballgame - you may well never notice the shortcomings that put me off on these; just order up a full size and make sure you get that inner bootie smoothed out to avoid hotspots.

I guess overall, I could recommend them to a friend, though not one who's hard-core about winter use..
Most helpful negative reviews
Similar items and more information in the following areas: