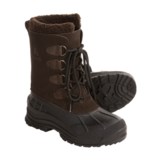 Closeouts. Your conquest against cold, wet feet begins with these winter pac boots from Kamik. Thanks to waterproof construction and an 8mm Zylextra® liner, they completely seal out moisture and keep feet warm all the way down to -40ºF.
Average Rating based on
119
reviews
4.067226
0
5
Reviewed by Suzzieqd from New Hampshire on Thursday, March 6, 2014

Boot is really warm outside in frigid temps. Not a fan of having a lining even though it's really warm. Takes awhile to dry if it gets wet and will need to replace it in time. Other than that really like this boot.

Reviewed by Pamela from Maryland on Thursday, February 6, 2014

Love these boots. I'm a size 8 give or take and the 8 fits perfectly. They are really comfortable.

Reviewed by Sylvia Donnelly from Missouri on Thursday, January 30, 2014

The boots looked fantastic - unfortunately they were for my daughter, and only came in a 7 & 8, no half sizes. We tried both, the 7 was too small and the 8 to large.

Reviewed by Outdoors woman from Wisconsin on Wednesday, January 29, 2014

We've had several days of 20 below and my feet have stayed nice and warm! I love the rubber bottoms for traction and that they are waterproof. Best pair of boots I've ever bought! Great boot, great price and fast shipping!

Reviewed by Znick from Indiana on Sunday, January 26, 2014

I ordered these boots because they were on sale, and I was in need of new, warm boots. I haven't had a ton of use for them yet, just for running errands and taking care of farm animals. They seem pretty warm so far. I got a size 8 and they are snug. i normally wear a size 7 womens.

Reviewed by Leslie from Virginia on Wednesday, January 22, 2014

I got them on closeout right in time for the most recent cold snap. They were just what I was looking for in terms of height, color, and insulation. I can't safely fit them in the stirrups to ride but for barn work they've been awesome. It's been disgustingly muddy for weeks and now we have half a foot of snow, but my feet have stayed warm and dry with just a pair of good wool socks. I agonized over what boots to buy for ages; I'm glad I got the right ones! Went gallivanting bareback through the snow today with the temp in the single digits and was glad for these boots!

Reviewed by Blanca from Chicago on Wednesday, January 22, 2014

These boots do not keep my feet dry, they keep them moist. After reading the other reviews I decided on these and the other main reason would be, Sierra Trading post does not have a big selection of boots in my size - these are closeouts. I live in Chicago and have experienced the polar vortex for the first time. I'm using them now and are looking for a better pair. NO MORE KAMIKS FOR ME.

Reviewed by giselle tish from pennsylvania on Tuesday, January 21, 2014

Boots are warm and waterproof , also non-skid, so I like them very much. I was wearing them when I shoveled snow and it was very warm. The only problem that they are a little heavy, but I love them.
Thank you .

Reviewed by Gina from New York City on Tuesday, January 21, 2014

Yes these are sort of big clunky boots but you assume they have to be to battle the elements. In my first snow storm ( NYC today!) they are ok. I did slip a few times in less than an inch of messy ground cover ( sidewalks). The fit is ok, I wouldn't want to be in them all day but they were fine for trudging across city streets that have not been plowed, sidewalks not shoveled and through 4 avenues underground for the subway. My feet were not warm, not hot. Since we are about to get close to a foot of snow I will be able to fully test their merits.

Reviewed by Dee h. from canton, mi on Sunday, January 19, 2014

These boots were too tight over the top of my foot.