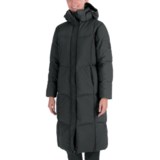 Closeouts. Try not to brag too much when everyone else is complaining of the frigid weather and you're nice and toasty in your Kamik Puff long down coat. The water-repellent, extra-long Supplex® shell and warm 595 fill power down insulation make getting through a day of plummeting temperatures and snow a piece of cake.
Average Rating based on
58
reviews
4.344827
0
5
Reviewed by Moonlight Goddess from San Diego CA on Monday, February 24, 2014

I originally bought this to wear to Alaska in winter, where we will be outside at midnight, photographing the aurora borealis. Not very active. Since I run a little cold, I bought this one, thinking it would do the job. So, to test it, I wore it outside here in San Diego one winter night, and it was so perfect, that I thought that it would not do the job at 0 degrees!. Instead, I bought a Canada Goose parka for Alaska.


I LOVE wearing the Kamik out to walk the dogs when it's in the 50's. It's perfect for me for that. It's very comfortable and cozy.

It runs small. I bought a large, and I'm glad, so I can wear a heavy sweater under it. I'm 5'6, 126#, for reference, and trim.

I do want to mention one problem, that many others have mentioned, and that is the zipper. I did get it to zip a few times, with great effort. Mostly it would not. I have returned it, and they are sending a replacement, after checking the zipper first.


Reviewed by UP North Michigan from UP North Michigan on Monday, December 16, 2013

Honestly, it's -5 degrees in NE Michigan this morning and guess who was toasty warm on the way to work? Me! Out of a possible 5 stars, I give this coat 10. It's as warm as my sheepskin, but without the weight and bulk.

In the past couple of years I reached a weight loss goal which left me with size large coats and a size medium body. With the large coats I was experiencing loose collars and a cold neck, loose at the bottom of the coat sent the wind whirling up and freezing my mid-section. I was just plain cold. So, I went shopping at my favorite "go-to" website "Sierra Trading Post" looking for a size medium warm coat. This coat had good reviews and I trusted them and bought it in the medium size.

Let me tell you what I like about this coat. Usually the first thing I do with a hooded coat is unzip the hood off the coat. I didn't do that with this one and I actually use the hood--and it FITS, WOW. The hood keeps your head and ears warm without having to wear 180's or a knit hat under it. The collar is high and tight to my neck, no drafts even with 25 mph winds and wind chills of -18. I love the length, it falls just about at the knee and once again, no wind or drafts are coming up and chilling me. The sleeves have really nice cuffs that keep the wind out. The medium size fits perfectly, I'm 5'6" and 125 lbs. It is definitely waterproof, I tested it by walking my Lab's in a snow storm. I must admit, I didn't know this name-brand and was skeptical, but was so pleasantly surprised when it arrived and am beyond words now that I've worn it for a couple of weeks in the coldest December that I've known.

All the large coats in my closet--they're being given to charity.

Reviewed by LillyEmily from NE on Friday, November 15, 2013

This coat had a lot of features I was looking for. But, I was not crazy about brown color online, and unsure if it is really tighter fit as some reviewers indicated. I have broad shoulders, and was fearing that this coat might end up uncomfortable. I am slender and usually M should be fine, but I often find that I need L because of my shoulders and chest. This coat is actually great in terms of cut. Fits me well (L), with some room to spare, but its nice cut so it is not looking huge on me. I was afraid I will be looking like a big brown bear.
I could probably go to M, but decided that I do not mind some space just in case I want to wear thick fleece or sweater. Length is great for my 5'61/2 frame. Hits under the knee and I like it is not too long. But it covers me nice in the event of big storm and cold. Hood is very well fitting (rare occurrence for me, although my shape and size are very average) and doesn't fall back or into my eyes. I even like the color.
In the end, I feel like I scored a very good deal. I really like it lot more that I thought I would.

Reviewed by Julie from Indian River on Wednesday, November 6, 2013

Product was as expected

Reviewed by hez from California on Wednesday, October 23, 2013

Love it!! Cozy warm adn I will never be cold wearing it. As expected it is a little bulky to put in your luggage but I will wear it on the plane.

Reviewed by STP addict from Upstate on Tuesday, July 30, 2013

This coat is worth every penny (and it is not that expensive). I bought one size up for layering but didn't need to. It keeps me warm in the coldest winter night and does not weigh me down.

Reviewed by D.M. from Colorado on Monday, May 13, 2013

I needed a warm coat in a hurry (after finding myself unexpectedly in blizzard conditions), and the price of this coat (on sale) was very reasonable. It was delivered promptly, and amply fitted the bill of keeping me warm and dry in snowstorms and below freezing temps, thanks to its extra length, both zipper and button closure, warm pockets, and knitted cuffs. On the downside, the coat is quite bulky; the fabric and color (described as dark brown, but which I'd call mud brown) are not very attractive; and the hood doesn't stay in place on my head very well (its a bit heavy and falls backwards). But I don't think I could have done better at the time and at the price.

Reviewed by Teacher from New Jersey on Thursday, March 14, 2013

Warm and cozy.

Reviewed by LIer from Massachusetts on Wednesday, March 13, 2013

My wife loves this coat. The only reason I rate it 4 stars instead of 5 is because this coat DUCK down (according to the tag) NOT goose down filled as claimed by this STP website.

Verified Buyer

Reviewed by kkose from New York on Monday, February 4, 2013

My wife is 165 cm and 57 kg. She generally wears medium size. We also bought medium size of this coat but it runs a little bit big. But small may not fit her either.
It really kept her warm in the coldest New York weather. She was not complaining at -5/-10 celcius, where as all my friends from California was freezing in their skiing jackets
the only drawback of the coat is that it is a little bit heavy.