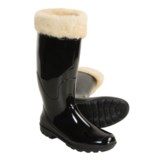 Closeouts. Kamik's Sophia rain boots provide complete protection against moisture with a waterproof rubber upper, and they stack on the style points with genuine full-shearling lining that extends into an attractive snow collar.
Average Rating based on
73
reviews
4.397260
0
5
Reviewed by Loves Shearling from MA on Thursday, January 29, 2015

The sizing of the left and the right boots is so different that upon trying them on, I immediately checked the numbering on the bottoms, thinking there was a mistaken mispairing of two different sizes in the same boot box. I own other Kamik boots so knew which size to order and have never had a problem. Unfortunately, one boot fits perfectly while the other is impossible to wear so they must be returned.

Reviewed by Estelle from Oregon on Friday, December 26, 2014

I never write reviews, but I have to praise these boots. I can go barefoot into the toasty warm boot, head outside into the the rain in Oregon, and hike up steep tails, passing other hikers with drenched shoes, who are slipping and sliding on the trail. I see them eying my adorable boots, and thinking,"I should get some of those!", and yes, they should. And so should you! I Love these boots. Thanks Kamik!

Reviewed by galit from new york city on Thursday, March 6, 2014

These boots are pretty nice. They have a great tread on the bottom which literally looks like it can really handle the snow. The lining is wonderful. I ordered a 6 but normally wear a 5-5.5 so that i can wear them with or without socks. At the moment while new I can wear them without socks because the lining is still so fluffy but surely after some wear they will smoosh down and I can wear with socks if needed. I will say that they have a bit of a strange design to the calf of the boot itself. I put them next to my other rain boots and the calf does bulge out much more on these boots than the straighter ones I have. It does seem a bit not great, but since I have not found any other boots with this much shearling that can tread thru the slush and mounds of snow we have had this year, I am just going to deal. They are not perfect but as close as I can get :)

Reviewed by Jennifer K. from Indiana on Tuesday, February 4, 2014

I like the look of these boots, but will be returning them as they are quite heavy and the sheepskin lining is not as plush as my Bearpaw sheepskin boots.

Reviewed by CO Mountain Girl from CO on Tuesday, September 17, 2013

Bought these boots just in time for the CO flood! Love them. I actually had to work in them. Stayed dry and I got so many compliments on the colors! What a steal!!!

Reviewed by Nicola from St. Augustine, FL on Tuesday, July 16, 2013

I have owned Kamik Sophia boots and after 4 years they have yet to crack or leak. Excellent warmth and comfort due to genuine sheepskin lining. They do run a bit small, but I wear mine without socks as is recommended with UGGs. But don't buy a 7 if you normally wear an 8. I loved my black pair so much I bought a second in brown for fall. These boots are comparable to UGGS (maybe better!) at a great price. There is a newer cheaper version out that uses faux sheepskin inside, but faux makes my feet sweat. To me it is worth the money for the real thing.

Reviewed by Wisconsin Nature Girl from Wisconsin on Tuesday, March 19, 2013

Wearing these almost daily in snow, sleet, rain mix of weather.Snow meltimg then freezing crazy weather. My feet are dry and warm and I don't have to dodge the soupy puddles on my walks. AND get compliments on these boots all day long. No lie. Multiple compliments per day. Once in a shoe store from 2 different employees. Everyone wants to know where I purchased them. Why aren' t these boots listed under winter boots category. They are fabulous winter boots.

Verified Buyer

Reviewed by Cozy in CA from Redwood City, CA on Tuesday, February 5, 2013

These boots are amazing. They look great, are super comfortable, and I can't believe how warm they are. Order AT LEAST a size larger than you need--maybe even 2 sizes. They are small.

Verified Buyer

Reviewed by teachem from alabama on Monday, February 4, 2013

The boots are better made than many of the "clones" that my students wear, and my middle-school daughter was delighted with a boot she could wear in cold and wet conditions without looking clunky. She's delighted -- and I'll probably borrow them pretty often.

Reviewed by EB from MVCA on Friday, January 11, 2013

These are great for days when you don't want to wear your nice Uggs out in the wet but want toasty feet. The only thing I don't like is how they make my skinny legs look wider, but these are clearly not the most stylish boots anyway... still love them because they feel soooo comfy.