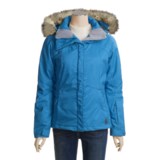 Closeouts. When Old Man Winter storms in, you'll be prepared if you're wearing Karbon's Blizzard ski jacket; a tough, waterproof and windproof shell is backed with Thermolite® Active insulation designed especially for active pursuits.
Questions about this product? Get answers from community and staff experts.
Question
(3 Questions)
Answer
(3 Answers)
"Can this jacket serve as a cold weather parka or is it meant more for active sportswear in cold weather? I am looking to replace an old down parka and wonder how well this jacket will serve.|Thanks, Sharon"

You can use it for either as it will keep you warm and dry.

This is a fleece lined hood that will be warm.

"What does "no bottom zip up" mean?"

Some jackets have a two way zipper for added ventilation, and when you have the jacket zipped closed you have a second zipper at the bottom to zip up and open the zipper from the bottom while the top is still closed.