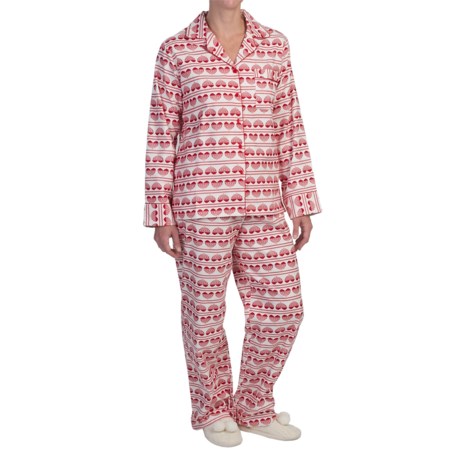 Warm & cozy...generously sized + great price!
Verified Buyer
Reviewed by Gloria from Southern California on Saturday, November 26, 2016
I like to buy flannel pjs in a fun pattern for everyone in the family to wear on Christmas Eve. I've been purchasing the nick & nora pjs in holiday patterns from one of the big box stores for years, but apparently they are no longer available. It seems as if it is getting harder and harder to find quality fabric and construction at less than premium prices--especially since I am looking for non-traditional patterns--the zanier the better! I ran across these when I was checking the offerings here on STP and the description, cute styles and many positive reviews made these seem as if they would fit the bill. Before ordering for everyone, I ordered one pair for myself and one for my grand-daughter to check them out (we are the pj connoisseurs in this family, ha, ha!). I was very pleased with every aspect of these pjs--the material is a mid-weight flannel; soft and warm enough to wear in the evening before bed-time or through breakfast int he morning, but not so heavy that they become uncomfortably hot under the blankets. After the first wash (I used a cold water cycle and hung them up to dry) there was very little shrinkage and no fading or bleeding of colors. Since then, they have been washed several times and still look new and feel new. I launder all of my cotton pjs this way and they last for years. I found the fit to be quite generous, especially the pj bottoms (the top had a rather boxy fit, as I expected, but was not as roomy as the bottoms--I am a bit apple shaped, however :( so this might not be the case for everyone). I didn't think I would like the ribbon drawstring, in the picture it looked large and floppy and I thought it might be too flimsy to hold up to every-day wear & tear, but that turned out to be a non-issue--it is soft and not as obtrusive as I thought it would be, and is holding up just fine. My grand-daughter loves her pjs (I got the cute black cats on pink background for her) so of course I have already placed an order for more pjs. The price is terrific--the fabric is substantial and durable and they are solidly constructed with nice details. There was quite an assortment of colors and patterns, and I was tempted to buy some extras to put aside for later+, but I see they are selling out rapidly. I hope these will be back in stock next year, as I will definitely be back for more. When it isn't too cold, I like to wear my pj bottoms with a t-shirt instead of the intended top of the set and so they end up getting washed more frequently (unless I want to wash the clean and unworn top, too--I've done that! to preserve uniform color, but it seems such a waste...) anyway, I was happy to see that I would be able to purchase an extra pair of pj bottoms to go with each set of pjs--problem solved! and the expanded set still costs less than a pair of similar pjs of lesser quality elsewhere...