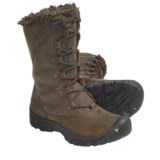 Closeouts. Keen's Bailey High winter boots don't mess around when wintry conditions take over the town. They step out fashionably with a distressed nubuck upper and battle back the elements with KEEN.DRY® waterproofing, KEEN.WARM® insulation and a clever KEEN.DCR outsole, which hardens as the temps drop to ensure traction on slippery surfaces.
Average Rating based on
12
reviews
4.416666
0
5
Verified Buyer

Reviewed by Cozy Mom from Montana on Friday, February 3, 2017

These boots have it all: 200gms of insulation, waterproof leather, comfortable liner, lace-up design - all while looking cute. Unfortunately for me, I needed a half size up from my usual running shoe size to fit comfortably. Since STP was out of this size, I am sending these back...but I will be watching for my size in the future!


Reviewed by SueGee from Upstate NY on Thursday, March 20, 2014

I normally wear a size 5.5 but ordered a size 5 instead and they fit beautifully. Although they do not have a zipper, I am finding them easy to get on and off. My feet which I should mention, I have Raynaud's Phenomenon (circulatory disease) in both hands and feet, making winter and cold weather harder to handle than most. These boots have done a great job keeping my feet warm especially given this BRUTAL winter we all endured! The traction on the ice was sturdy and I felt secure on them. My driveway is a big slope down and often a bit of an ice skating adventure, but the traction on these boots is phenomenal. I know they are a closeout, but if you can find a pair in your size and like the styling which I think is super cute, they are a great winter boot and won't disappoint you.

Reviewed by wedeln94 from hudson ma. on Monday, January 6, 2014

I bought these for the reviews and the fact that keen puts out a good product. My wife has already forgotten about her old boots she loves these . they are very warm look great and seem pretty dam sturdy. We live in new england so it gets cold ( not upper midwest cold but cold enough) she loves these boots.....

Reviewed by Ana A from Iowa on Tuesday, December 17, 2013

When I first tried these boots on I thought they're quite stiff and got a bit concerned. When I actually put them to use it was almost like they got instantly adjusted to my feet. I've been using them non stop for about a week now and love them. My feet are kept warm and comfortable, even after very long and intensive all day walks.

Reviewed by Snow Walker from Pennsylvania on Monday, December 2, 2013

Great boots! I bought these to replace my old pair of Keen snow boots, which I loved. They are super comfortable and supportive, and it seems they will be warm and durable, just like my previous pair. Before getting these, I ordered another style but sent them back because even with a zipper, it was difficult to tuck pants into the boots for deep snow. These boots lace up, so they can be adjusted to your calf size with or without jeans tucked into them. They are a heavy snow boot, cute and functional, but if you want a sleek boot to wear with leggings or skirt, these may be a bit rugged for that look (although I wear them with skirts!). Great traction on slippery surfaces. Since my winter socks are usually quite thick, I ordered a half size larger and they fit perfectly! So far, I am very pleased with this boot!

Reviewed by Not_A_Sheeple from Oregon on Tuesday, October 22, 2013

I absolutely LOVE these boots!!! They are so cute and very well made. When I first put them on they felt stiff and hard but after a couple days of wear they are breaking in beautifully and they are very comfortable with the just the right amount of cushioning. I love the look and feel of these boots and also appreciate that they aren't bulky.
As for warmth... For now they are plenty warm. Winters here get very cold (below zero) and I HATE cold feet. I will update my review once winter sets in around here and let you know but for now, for me, these boots rate a 5 star!

Reviewed by Soccer Mom from upstate New York on Saturday, October 5, 2013

I have not yet worn these - however, I have full confidence that winter will be more enjoyable while I walk in these boots!

Reviewed by The Petite Pear from Washington DC on Monday, May 13, 2013

These are what I was looking for, an insulated, waterproof, breathable boot versatile enough for urban and other settings - something that doesn't necessarily scream "clunky hiking boot." I love my insulated Keen hikers which have the same Keen.Dry and 200g Keen.Warm features, but they are sometimes just a bit too... rugged-looking for certain situations. Looking forward to using this boot as a more toned-down alternative.

The fit is excellent with a thin to midweight sock, but I won't be wearing thick socks with these boots. The width is a bit more snug than I would expect with Keens.

Reviewed by Aunt Sharon from Michigan on Friday, March 1, 2013

I'm very pleased with the fit and feel, the sizing run's true, and they indeed keep your feet warm, I would buy them again if need be.

Verified Buyer

Reviewed by Pure Adirondacker from Syracuse, NY on Wednesday, February 13, 2013

I bought these boots to work as winter hiking or snowshoeing boots. So far, so good! The boots are comfortable and they keep my feet warm and dry. The boots also run true to size... I typically wear a 9.5, and that is what I ordered.

The only improvement to the boot that I think would be helpful would be to add a tab/loop on the back of the boot to help you pull it on to your foot. Other than that, I am VERY pleased with my purchase!