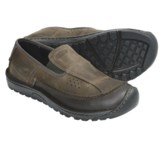 Closeouts. Keen's Dillon slip-on shoes are versatile, durable and comfortable thanks to their removable KEEN.CUSH footbed, full-grain leather upper and easy slip-on design.
Average Rating based on
81
reviews
4.098765
0
5
Verified Buyer

Reviewed by ddrescher from Bethlehem CT on Tuesday, October 7, 2014

Keen is true to size and instantly comfortable. Stylish too.

Reviewed by Jason from Canandaigua, NY on Sunday, July 6, 2014

I was initially pleased with the appearance and comfort of this shoe, but after wearing them for a few months I am very disappointed with the quality of this product. The smooth leather toe guard scuffs very easily and looks terrible. The suede(?) upper attracts dirt and grime like a magnet. The rubber toe bumper is peeling away from the upper. The stitching between the suede and the smooth leather pulled out and I now have a hole that my pinky toe winks through. I am not hard on shoes and rarely wore them in inclement weather, but they are literally falling apart. I have other Keens that served me well, but I may stay away from the brand after this experience.

Verified Buyer

Reviewed by florida from florida on Thursday, May 1, 2014

Good insole comfort, a little narrower than other Keens so can wear with or without socks, my shoe of choice when not wearing sandals.

Verified Buyer

Reviewed by Ron in Indy from Indianapolis on Tuesday, April 29, 2014

They looked real nice and seemed liked they would last.

The size was right based on the recommendations.

The big problem and the reason I returned them was the back of the shoe would not hold onto the back of my foot.

Therefore: walkout shoes

Verified Buyer

Reviewed by Scott in Maryland from Maryland on Saturday, April 26, 2014

I bought these shoes for casual walking around and something to easily slip off and on while going through TSA lines at the airport. I found them comfortable enough, but the heels are a bit loose and my feet were slipping in and out while walking around. It felt like I was walking around in "flop-flop" type sandals. So, alas, I had to send them back.

Reviewed by Georgia from Mississippi on Thursday, April 3, 2014

They are so comfortable I bought another pair. Now I have 2.

Reviewed by Mother of three from North Dakota on Thursday, March 6, 2014

These shoes fit well. I have alway bought Boston slip ons by Keen and thought these were a little similar, but different enough for something newer. The fit was just a little more narrow than the Boston, but easy to break in. Great shoe by Keen, as always.

Reviewed by Toganet from Buffalo, NY on Monday, February 10, 2014

I have wide feet and a hard-to-fit arch. Lately I have come to swear by Keen's. I have a half dozen pair and the sizing has always been consistent. I've always been able to order my size and know they would fit without worry.

With this pair for the first time I was disappointed -- somewhat. The fit is a little narrow in the arch and tight across the ball of the foot. In hindsight I should have ordered a half size up.

That being said, these shoes are easy to slip on, look great with a pair of jeans, and feature a cushier sole than my other Keen's. I've been wearing these occasionally for a few weeks, and I've decided that even if I need to go sockless these are worth it. That will be easier to adhere to if they stretch a bit as they break in.

Reviewed by The Danish Swirl from The Bay State on Friday, February 7, 2014

Yes, Keen. The brand all the cool kids are wearing. Even after my three pairs fell apart prematurely, I couldn't stay away from the "look" and fell for this bargain basement Dillon model.
Imagine my delight opening up that green/crunchy packaging and gazing upon a brand new pair of shoes...
Imagine my nihilistic reaction when, OF COURSE, each shoe was defective. In this case, the outer edges of the footbed/sole are higher than the inner, resulting in pronation that was almost instantly borderline-painful.
I'm like, what the...seriously? Did I miss something? Did the description say, "Perfect for sufferers of pronation?" Were these "factory seconds?" Nope. Looks like at least one other reviewer had the identical experience with one of his pair, so I knew Keen was at least capable of making one proper Dillon shoe.
Then I looked at them from behind and sure enough, they are canted inward extremely. Totally defective, even at a glance. Which makes the fancy Keen QC label inside the box pretty ironic.
Imagine my relief when I saw that STP includes a return-postage sticker! Imagine my joy when I saw that I would be CHARGED $6.95 for the privilege of returning a defective item I'd already paid $7.95 in shipping! STP customer service told me to return the shoes with a letter and their "research department" (I'm picturing a clean room, lab coats, lasers, and geiger counters) will determine my fate regarding shipping charges.
Bottom line: defective shoes. Too bad. I like the look. We shall see how STP handles sticky matters like brokering bunk brands. As always with wearables bought online, caveat emptor. OTOH, who dares wins.

Reviewed by JIM from Nebraska on Thursday, February 6, 2014

This is my first pair of Keen shoes. They take a bit of getting use to as they fit differently than my Merill shoes. More for warmer weather as they are not insulated. They feel OK and run atleast 1/2 to 1 size large.