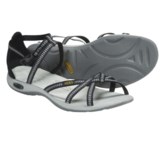 Closeouts. Soak up summer's glow in Keen's La Paz strap sandals, featuring an open-toe design, cushy metatomical footbed and razor-siped rubber outsole.
Average Rating based on
12
reviews
3.416666
0
5
Reviewed by Renee from Hawaii on Monday, October 7, 2013

Comfortable, as always. These are cuter and dressier than any other Keens I've had. Best shoes ever!

Reviewed by Diane from Spokane,Wa on Sunday, October 6, 2013

Saw these in a store for about $70 on sale but they didn't have my size. These fit perfect, came quickly, and were exactly as described.

Reviewed by frankie from Boston on Wednesday, October 2, 2013

I was thrilled to get these on sale at $40.00. I would never have paid the $70+ retail for such minimal footwear, but I thought I'd "invest" in Keen for the comfortable, solid, quality reputation they supposedly have. I must say that irritation with this shoe grew to near fury after less than 2 weeks. The main thing is the strap on the back doesn't hold. It gave way within a few days and continually did so every time I wore them. In addition, the strap across the top of the foot loosens within a few footsteps. On top of that, the footbed doesn't breathe, so my feet felt hot -- even though they were 75% exposed to air! Terrible, terrible design -- I find it hard to believe this went through ANY quality testing at all. This is a strappy sandal that relies on velcro to hold the shoe on. It barely held up for a few days. For the prices Keen charges, using a very strong velcro should be a no-brainer.

I bought these while on vacation in Canada and had moved on from the town where I bought them when I realized how utterly useless they were. I was told that I could return them within 30 days, but had to file some sort of claim with Keen corporate since I couldn't get my money back from the original retailer. I just boiled about it and called it a loss as it was a busy time of year and didn't have the time to do it within the remaining 10 days of the 30-day window. I kept trying to give them a chance because I wanted them to be the "barefoot" experience I longed for, but now...nearly 3 months later I am driven to write this review because I end up nearly blowing a fuse whenever I have them on for more than 10 minutes, and it surprises me that a company that specialized in outdoorsy, rugged footwear would let this level of poor design happen...and then charge more than $70 because of its "name." Shame on Keen. It's the second pair of Keen's I've purchased. The first pair were oddly fitting and didn't allow my feet to breathe, either -- despite the open web design. So this is the end of my Keen experiment. I have no problem investing in a good shoe, but it absolutely infuriates me when companies seem to reach some level of "preciousness" and charge ridiculous prices for lazy design.

Reviewed by Whitney from Montana on Tuesday, July 30, 2013

I have this shoe in black/grey and they are very comfortable. Length is true to size but I found the webbing meant for a slightly wider foot. When I tighten the ankle strap other parts of the shoe are still loose and the heel moves around. I don't think it is a big enough problem to dislike them though. For $20 I cant complain.

Reviewed by Kim 4 nocirc.org from TN on Monday, July 8, 2013

I'm always hesitant to order clothing and shoes on line. I had a coupon and took a chance. I wear sz 11 and that is what I ordered. The fit is fine. The only adjustable strap is the top one at the ankle. The fore foot straps are a bit loose on my foot but not bad. I got the black ones and they look very nice on. I'm use to Chaco and a bit more arch support but these have not bothered me yet. I wore then for several hours at Rock City Gardens. So far, so good and at the price I paid very worth it. Happy with my new sandals.

Reviewed by frequent buyer from california on Monday, July 1, 2013

I love Keens...have probably 10+ pair and wear them almost exclusively.
However these just don't fit...the straps are placed in the wrong location and my pinky toes hang over the sides.

Reviewed by Half Momma from Minnesota on Saturday, May 25, 2013

These are the Keens I have been searching for! They are incredibly comfortable! I love that I can dress them up or down! I bought them for our trip to San Fransisco, but have worn them every day since they arrived!

Reviewed by porcherc from Ohio on Tuesday, April 30, 2013

Minimal adjustment possible with straps ... only the fastener will adjust a "bit". I need much more width at the strap closet to the ankle. These just did not work for me.

Reviewed by Anonymous from Salt Lake City on Thursday, April 18, 2013

I really wanted these to fit! I have narrow ankles, so the ankle strap fit great. Unfortunately my foot is a little wider in the toe box so my little toes were not contained by the straps and sloppily stuck out of the sides. Cute shoe, but I sent them back.

Reviewed by Love shoes from Utah on Tuesday, April 16, 2013

I ordered size 8.5 in the pretty pink/orange color, but didn't like how they feel. No arch support and the straps are not adjustable enough for my feet. Only one strap can be adjusted. Will return them.