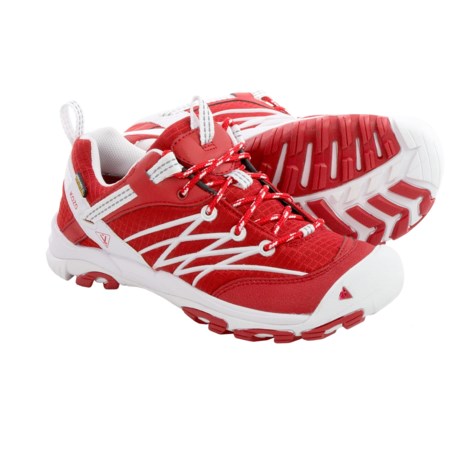 There is a small amount of trim on these that looks like leather but I believe it's synthetic. They are super comfortable, breathable, and light weight...not to mention really cute. I love them!

There is some white trim and the red right above the toe guard that may be leather, or they may be synthetic. I can't tell. But given that the shoes are really waterproof, I'd say these pieces are synthetic. The rest of the shoe is definitely not leather.

These shoes are so comfortable and so well made. I've just checked and I believe they are all man made materials. Exceptional shoes!

I can find no leather. Rubber, yes; synthetics, yes... But no leather.

There is a little leather in tge toe area and some by the heel.

According to the product specs tab:
Upper: Mesh with synthetic overlays
Lining: Textile
Midsole: PU (polyurethane)
Outsole: Rubber

The little sticker inside the shoe doesn't have any of the "pelt" icons (only diamonds and what looks like a woven square), so it looks like these are synthetic.

These are no leather :) I have worn them many times when I walked with my dog in rainy day. These are pretty good waterproof.