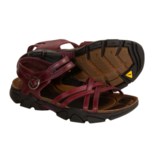 Closeouts. Keen's Naples sandal in strappy burgundy leather likes to travel in exotic places and keep your feet cool and comfortable.
Average Rating based on
39
reviews
4.487179
0
5
Verified Buyer

Reviewed by kpa6342 from Wisconsin on Saturday, August 30, 2014

I was looking for a pair of Keen sandals for an upcoming trip. I already have one pair and I love them so I chose these Keen Naples Sandals. The right foot is a little tight on top so I am wearing them around the house to try and stretch it since this was the only size they had. They have good arch support and a rugged sole. They seem to run true to size.

Reviewed by Michkat from Michigan on Tuesday, July 9, 2013

I have the black pair and the tan pair. The fit different. The tan fit better out of the box, the black pair needed a bit of stretching of the stationery upper strap. That being said, I walked about Europe in them and wore them the entire trip, both pair. The were more comfortable than my sketchers. the only problem I had was when I got too much sun on my feet and ended up wearing the black pair for the last 3 days of my trip. I guess they still fit a bit different and the tan were rubbing on the sunburn, but the black didn't. As I said, the blacks were a bit tight but now feel great as do the tans. I like them with shorts, jeans, capris, skorts and a casual dress. I walked on cobblestone, rocks, cement, dirt, grass, bricks, buckley streets, uphill, downhill, ran through airports...These worked out great!

Reviewed by joncmtns from Piney Creek, NC on Wednesday, June 5, 2013

Always love Keen quality but decided to return, Just not the look I wanted, but certainly recommend them.

Reviewed by Mad4mky from California on Tuesday, May 21, 2013

These are my fourth pair. I have used these for travel all over the world. From Italy, Paris, Tokyo, Tokyo Disneyland---Walt Disney World and Disneyland.
They are the most comfortable ever.
I have small feet--but wide feet. After foot surgeries...I am picky about what I wear...and these are the best. My feet never tire, and never hurt.

Reviewed by California Hiker from San Francisco on Sunday, March 31, 2013

I wear a size 6.5 between a medium and wide width. I took a chance and ordered these in size 6 knowing that Keen can run a bit big. The length from toe to heel is fine. The leather straps at the front of the sandal are rather stiff so they cut into my feet since the sandal width is snug for me. The front straps have a little piece of elastic to give it extra stretch but it is not enough for me. Plan to wear them with socks around the house, and I hope the sandal straps will stretch out with additional wear.

Reviewed by Comfort seeker from Arkansas on Monday, March 11, 2013

These shoes were well made. I thought they looked comfortable. But the forefoot straps were too loose on my foot and the straps are not adjustable. I had to return them.

Verified Buyer

Reviewed by skinnyski from Lake Elmo, MN on Wednesday, February 20, 2013

I bought these sandals for a trip to Europe this summer. I wear an 11 and they seem true to size. I have wide feet so someone with narrow feet might find them sloppy. I have been wearing them in around the house and am quite pleased.

Reviewed by MichKat from Kalamazoo, Michigan on Thursday, December 20, 2012

I have to qualify my rating. I just tried these on and I like them, altho with a blizzard coming, I will have to wait til spring to wear them. I usually wear an 11, due to 10.5 not always being available. If I order a 10, I usually get a wide and that usually seems to work. These were 10.5 med width and they fit me quite well. They actually fit better than a pair of eastland's I have and they are more comfortable. I bought a pair in black and tan because I am going to Europe in the summer and will be doing lots of walking. I hope these work out well, but so far I am extrememly hopeful. They seem to be well made and comfortable right out of the box. There is elastic on the back strap attaching the buckle and on one of the footbed straps, but it works for me. These look nice and they will probably be my vacation shoes. So far, very pleased. They actually fit better than a pair of Clarks I am returning.

Verified Buyer

Reviewed by raspberry from columbus, oh on Tuesday, December 18, 2012

Sandals are comfortable and shock-absorbing because of the thick soles. The sandals, though, look cute, not chunky.

Verified Buyer

Reviewed by E from Eureka CA on Wednesday, November 28, 2012

I wear them all the time. I wear them so much I go through a pair a year. The soles do not wear out, the leather just stretches over time because I wear them so much.

They are really really comfortable. I always get complements on them from young 20- something trendy kids to middle aged co-workers. They just work for all situations.