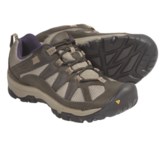 Closeouts. Keen Palisades trail shoes offer cool comfort and excellent traction. The lightweight design with added toe protection and a supportive insole is at home on the trail and anywhere your everyday activities take you.
Average Rating based on
20
reviews
4.100000
0
5
Reviewed by MIMI from NC on Tuesday, November 12, 2013

With inserts these shoes are really comfortable for long walks.

Reviewed by Chris from Michigan on Thursday, September 12, 2013

Own many Keens. Great fit. Sometimes Keens have a strange fit but these are great. Work in them all day.

Reviewed by frankie from Nevada on Wednesday, September 11, 2013

I've been a long time Keen buyer and have always loved them. So it's with a heavy heart that I give these less than perfect marks. Keen seems to have changed their last recently. I bought a pair of Newports and these at about the same time and I find both pairs to be a lot less supportive than my previous Keens. The main problem with this shoe is the lack of support for over pronators. My foot constantly rolls in even on pavement. It's actually a little uncomfortable. Like I said, never had this problem before. The other disappointing thing about the shoe is the ruggedness. The trademark Keen toe bumper causes the shoe to flex too much at the toe, which quickly degrades the Nubuck in this area. They also look dusty and grubby after only 1 month of use and they don't wipe clean easily. Finally, and this is kind of silly but - the shoelaces that come with them come untied VERY easily. They're way too thick, so you can never get them tied tightly. I replaced my laces right away. I thought these would be a good replacement for my Vasque light hikers but they're not.

Reviewed by Jaimee from Nevada City, CA on Saturday, July 27, 2013

Solid, stylish, comfortable hikers. Keen quality. I wear between a 9.5 and a 10. Got the 10 in these and they're fine with double socks (a midweight wool hiker and a thin liner sock). The brown color combo is better looking in person. In daylight you csn see the purple around the ankle and in the stitching. All in all an incredible deal and a favorite shoe.

Reviewed by Riding juni from wa on Thursday, July 25, 2013

I have a fused foot and this shoe with a fairly stable bottom works well for me running around moving horses and doing lite barn work .I haven't tried a hike in it yet but I am hopeful. I wear a 10.5 in Keen so my toes are not pinched but wear 10 most of the time....9.5 in Ariat boots and so it goes..

Reviewed by this is HYKER 1 from illinois on Thursday, July 11, 2013

keens are always awesome BUT
i just received the 2 swim suits and 2 tee shirts.
the suits are really strange sized and there is no hook to get the racerback on and they would need a midget to get into them(sized 34 and 36.)
the 2 supposed to be organic cotton tees
the large is of course too large
and the medium is too small and strange stretchy material so...

like in previous years these items will all be returned.
not worth the trouble to try to find someone else to buy them.

and have lost $7.97 shipping for about 1 pound of items.
and it will cost $5.95 to send them back.

THAT AMOUNTS TO $ 14.00 lost for 50.00 worth of stuff that does not fit.*****

now i remember why i stopped shopping at sierra trading post.
and i had better wear the keens really fast because 2 years ago i kept a pair of new hiking boots for 1 year before wearing
and the colored fake leather flaked off and the bottms fell apart when i took them on vacation.

they must have been stored in a very hot warehouse.

i would rreally like at least free shipping for the returns.

Reviewed by Hiker from Washington on Friday, July 5, 2013

I was worried these shoes were gonna be super wide like lots of other keens but they arent! They are wide enough without looking like little blocks on my feet. I really like how light the shoe is especially with how heavy duty and well built they are. I'm still working on breaking them in but they are gonna be awesome. I would recommend them to anyone!

Reviewed by active mom from Maryland on Wednesday, July 3, 2013

I was worried these were going to be a big shoe but they aren't. B/c they are a hiking shoe they are stiffer then my other Keens. Fit is true to size. I did not have any issues with the width which I saw others did but I do not have a wide foot.

Reviewed by TVNewsGirl from Kansas City on Tuesday, July 2, 2013

I started wearing Keens a decade ago after spinal surgery. The soles absorb impact like nothing else. They do run about a half size small, pretty consistently. I ordered a half size up and these were still slightly small. I took out the insole and put in a Powerstep insole. Problem solved. I use these for light hiking, gym shoes (strength training, not running) dog walking, yard work. I would order a full size up if you plan to use these for serious hiking. I think the half size up, at least on me, would bruise toes on a hard downhill hike.

Reviewed by recreational skier from Cody on Saturday, April 13, 2013

Fit nicely & good colors, just what I expected.