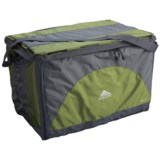 Closeouts. The ultimate, all-in-one Binto Bar base camp kitchen organizer from Kelty is a self-contained, easy-to-transport design.
Perfect for camping, outdoor cookouts, tailgating and more
Work station with wind-protected prep area
Organizational pockets
Three removable binto storage cubes to hold food and supplies
Shoulder strap: Adjustable to 48"
Binto cubes: 15x11-½x5-½" each
Closed: 15-½x27x21-½"
Open: 30-½x27x21-½"
Capacity: 6450 cu.in.
Weight: 6 lb. 14 oz.
Material:
Bottom: 1680 denier polyester ballistic
Closeouts. China.
Average Rating based on
8
reviews
4.500000
0
5
Verified Buyer

Reviewed by SteelieRan from Northern California on Monday, May 31, 2010

Very nice for organizing your base camp when car camping. Nice and light with a fair amount of space for supplies. Windscreen is a valuable feature. Not super sturdy but functional for light work.

Best Uses: Car Camping, tailgating
Cons: Unstable
Describe Yourself: Avid Adventurer
Pros: Compact, Durable, Easy To Clean, Lightweight
What Is Your Gear Style: Minimalist

Verified Buyer

Reviewed by upside_down from Indiana on Sunday, May 23, 2010

Great buy if you want to be more organized. Very happy with it - would buy again. We do wish the sides had a little more support when the binto bags are out, but it's not that big of a problem.

Best Uses: Car Camping
Cons: Unstable
Describe Yourself: Casual/ Recreational
Pros: Compact, Durable, Easy To Clean
What Is Your Gear Style: Comfort Driven

Verified Buyer

Reviewed by Outdoorsman from Colorado on Saturday, May 1, 2010

This product really helps with organization, Food-Cloths.The individual cases,coupled together with the large case allow for many options. Not overly strong as a stand alone kithchen as things tend to fall off,also not very stable as a work surface. The organizers clean up well as I recently had a syrup explosion in a "binto" and it cleaned out quite well.

Best Uses: Car Camping, Car orginazation
Cons: Not enough structure, Unstable
Describe Yourself: Avid Adventurer
Pros: Compact, Easy To Clean, Lightweight, Organized
What Is Your Gear Style: Comfort Driven

Verified Buyer

Reviewed by Mountain Heir from Cookeville, TN on Wednesday, April 14, 2010

Being organized is the answer to the success of being efficient in the kitchen and everything else about camping. This unit fits perfect at the end of a picnic table and can be zipped up and carried easily, out of the way of hungry birds and animals after the meal preparation has taken place. The three individual bags are of different colors making it a little more simple for recalling the contents. Even though I am paralyzed it has become my role to be the camp organizer, including the menus, shopping, and directing the cooking procedures oftentimes. With my Binto Bar I can see that my pantry experience is going to be in one place rather than in several [...] bags. I am thinking about adding hard plastic containers inside of each Binto such that enables each bag to stand upright inside of the Bar as food supplies are depleted. I'll give more feedback after actually using it in the field.

Describe Yourself: Casual/ Recreational
Pros: Compact, Durable, Easy To Clean, Lightweight, Stable
What Is Your Gear Style: Comfort Driven

Verified Buyer

Reviewed by Jimmy from Triangle on Friday, April 2, 2010

Holds a bunch of stuff and packs away very compactly.

Best Uses: Car Camping
Describe Yourself: Avid Adventurer
Pros: Durable, Easy To Clean, Stable
What Is Your Gear Style: Minimalist

Verified Buyer

Reviewed by maureen cora from illinois on Tuesday, March 30, 2010

This solves my problem of how to transport food for camping - boxes, bags, laundry baskets did not efficiently fit into our small Scamper space. This appears to be exactly what I wanted and will pair nicely with my chuck box.

I'm curious to see how it will behave partially full tho.

Best Uses: Car Camping
Cons: Unstable
Describe Yourself: Casual/ Recreational
Pros: Compact, Durable, Easy To Clean, Lightweight
What Is Your Gear Style: Comfort Driven

Verified Buyer

Reviewed by Mark's Sweet Sis from Canon City, CO on Tuesday, March 30, 2010

Bought the Camp Kitchen Organizer, with an extra binto storage bin and another vented storage bin, for my brother, a fly-fisherman and avid motor sports fan, who is always headed somewhere and tends to live out of his SUV when he travels. He's using it for all kinds of things that you wouldn't normally put with the word "kitchen." Holds tons of items, fits anywhere, stores super-flat.

Pros: Lightweight, Stable, Typical Kelty quality

Verified Buyer

Reviewed by Camp Dad from RI on Sunday, March 7, 2010

This product puts it all together for your kitchen gear and food. Better than using milk crates like I used to. This is for short distance transports to the camp site or picnic table, and would take 2 to carry if loaded up with a weeks supply. One can carry if just full of picnic stuff. It is large, so it is more for a few days to weeks supply for outings. Makes setting up camp quick. Meal prep faster by having everything together, less searching for stuff.
I use mine in my outside kitchen on the deck and car camping. Best if you pack loose things in some of those glad plastic containers as it helps to give support to the individual bintos as these are what hold up the prep area on top. After you eat through your supplies the binto's begin to collapse and need something hard to give support, this is where the plastic containers help. This is not for putting a stove on! You will melt it. Placing a large cutting board on top helps balance what you place there, really not sturdy enough to cut on, more for keeping food elevated and items consolodated while you cook. Great product to keep it all together, STP has the BEST price (as usual),

Best Uses: Backyard, Day Trips, River, Travel, Winter Camping
Cons: Soft side
Describe Yourself: Avid Adventurer
Pros: Compact, Durable, Easy Setup, Easy to Use, Good Design, organized
What Is Your Gear Style: Comfort Driven