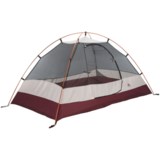 Closeouts. Offering lightweight weather protection and excellent value, the Kelty Monarch 2 tent has a sturdy two-pole support system for easy setup and excellent ventilation thanks to a mostly mesh canopy.
Average Rating based on
5
reviews
4.200000
0
5
Verified Buyer

Reviewed by Sparkle from North Carolina on Wednesday, October 31, 2012

This tent was a great deal at Sierra Trader, and a friend just bought one, too. I liked the barely-over-4 lbs. for a 2 person tent. Took it backpacking in mountains of western NC this weekend, with 40+ MPH winds ALL NIGHT from the big storm system. This tent swayed with the wind, did not tear, did not come out of the stakes, and I was amazed, as was my friend, at how very sturdy and well made it is! Also, lots of fine grit blowing, and zippers still worked really well. Might be a little cozy for 2 people, but the trade-off in weight is worth it for me. Plenty of length for tall people, with room at the head and foot for small gear; width is where it's tight. I would buy this tent again, and have always been pleased with my Kelty products

Best Uses: 1 person, 2 Cozy People, Ltwt Backpacking
Cons: Small for two
Pros: Easy set-up, great bargain, Lightweight, Strong, Sturdy

Reviewed by JZ from VA on Friday, October 19, 2012

this is the exact same tent as the kelty salida 2 that has been getting great reviews, the only difference is the color scheme. I'm nothing but impressed with this tent for the price.

Best Uses: Backpacking, Hiking
Cons: Side Enterance Vs Front
Pros: Ease of setup, Floor Space, Weight Vs Price

Verified Buyer

Reviewed by PJ from Vancouver, WA on Monday, October 15, 2012

Love my tent! Haven't used it in wet weather, so can't attest to that condition.

Best Uses: Anytime, Backpacking, Camping
Pros: Comfortable In Dry Weathe, Easy setup, Easy to clean out, Fairly lightweight

Verified Buyer

Reviewed by novice camper from western Oklahoma on Tuesday, September 18, 2012

I am pretty new to camping. I have spent some nights at the lake in a Walmart Coleman tent but this it my first experience with a higher tier tent. It seems like a quality tent. With my little experience, I unpacked it and assemblied in my livingroom in 5-7 minutes without reading the instructions. The clip-on rods instread of stabbing cloth makes it very easy. It fits back in the carry sack much easier than the large car camping tents that I am used to.

I tried to find reviews of this model but couldn't find much. It appears to be the same as the Kelty salida 2 in a different color. It does have an attic cloth that hangs in the very top of the dome if you use the loops in the corns should want to install it. This cloth comes as the wrap for the anchors. It is pretty rigid so if you do track sand/dirt inside you can pick up assembled and shake the debris out in the morning before you pack it up.

Maybe I don't understand the vestibules mentions but I didn't see any inside pockets besides little 5ish inch mesh triangles in the bottom corners of the windows. The floor is a rather thin material so it may not be the best tent without a footprint if you are car camping with kids constantly get in and out. I am used to the tarp material in the floors of the cheaper tents. This material is heavy so the wieght savings are worth it if you are carrying on your back.

I decided to go with a 2 man tent after reading reviews on 1 man tent models being cramped. I am 5'11" and 220 with broad shoulders. Plus I am a pretty active sleeper. My little brother who is more into camping than I am recommended the clip-on rods for easy assembly and I have to agree.

I definitely recommend this tent for those that are new to camping/hiking. I don't see the point in spending $300 on a tent to use it a time or two and find out that you aren't into the hobby like you thought you might. I think it will handle more than most will throw at it.

Best Uses: Backpacking
Cons: Cheap Anchors
Pros: Cost2weight2space Ratio, Easy assembly, Rooomy, Small when packed

Verified Buyer

Reviewed by Chuck from Charlotte, NC on Monday, September 3, 2012

Bought for son to take on Scout trips.