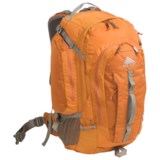 Closeouts. With features like a large zip main compartment, ample accessory pockets and a padded waistbelt, Kelty's Redwing 50 backpack remains the proven trail classic its always been, just with a stylish face lift.
Average Rating based on
28
reviews
4.500000
0
5
Reviewed by Climber Guy from Northern Cali on Monday, November 16, 2015

(In my opinion,) the Kelty Redwing 50 backpack is one of the most versatile and comfortable packs I have EVER seen. Why...? Let me try and explain. First off, the main compartment has a long surrounding zipper so you can instantly get to ALL the items in the bag, including the stuff at the bottom. Unlike a top loading bag where you need to pull everything out before you can get to the bottom. Secondly, having multiple large SEPERATED pockets is a GREAT idea, why? So you can keep a messy camp stove separate from your clean clothing, or food separate from undergarments, or electronics separate from fluids, or base camp items separate from the stuff you need ASAP. Multiple pockets are the ONLY way to go, if for no other reason than organization and finding what you need FAST! The Redwing 50 has four separate pockets outside the main compartment.

The TOP pocket is plenty large enough to stuff a down jacket into, or food for the trip, or a tablet if you want to keep it safe on top of the pack and free from bumps.

The side pockets are large and zip all the way open. But in addition, they EACH have a hidden hollow sleeve underneath them allowing you to secure any long item that might be too long for the pack… fishing pole, tent poles, trekking poles, tripods, you name it… you can see my home made stick clip in image H to see what I mean. You would not believe how useful those sleeves are. Use them to stuff a jacket in them, maps, gloves, etc… any item in the side sleeves reaches all the way down to the water bottle pocket so you know your item is secured. Think of it as a two foot long pocket that adjusts too whatever you stuff in it. (Love em')

The large pocket on the back (opposite the shoulder straps) has multiple layers for organizing the smaller items you need. Just see (Image I) for example. In that image alone I have a tablet, sunglasses, wallet, camera, snack bars, multi-tool, locking blade, pens, sharpie, medic shears, iPod… and there was still more room, as those were just the organization pockets that were filled. There is still the main pocket that is empty to stuff some PB&Js in or a few paperbacks. Some of the organization sleeves have soft backing to keep items scratch free, others secure with fasteners to keep items locked in place. A key clip helps to make sure your valuables are still there after your trip is done.

The back and shoulder padding is thick and well ventilated. The waist belt is also well padded and wide for all day comfort. The waist belt has webbing loops that are far more versatile than those silly pockets you see on expensive packs. The "silly pockets" seem cool in the store, but when on the trail they prove to be a pain… why? Well, the one pocket means you dump all your items into one tight hole… Keys, knife, snack, camera… so when you need to grab ONE item, you need to juggle everything in the tight tiny pocket. But… web loops allow for everything to be right at your fingertips. Ask yourself, if you need your knife/camera/phone fast… do you really want to dig for it? Plus, loops allow you to expand with whatever you need… add a dog leash to walk Fido hands free. Or…If you like a pocket, just add one to the loops. I keep two snack bars in my added pocket and I still have room for a pocket knife and cell phone, all… instantly grab-able on the web loops. Try that with a dinky zipper pocket.

Flexible expandability is the name of the game with this pack. Pack just the middle… and throw a rope over the top (using the rope straps as seen in image G) if you want to make a light and fast push for the summit. Or fill er' up to the brim for multiple day adventures. If you need extra space, the web loops on the bottom of the pack allow for attaching a bed roll, tent, sleeping pad, flotation device or any large object with just the cinching of two webbing straps or old belts.

In addition there are carabineer loops and a large handle on the back of the pack. Clip, haul, hang or secure the pack in any number of ways. Hang the pack at night and keep it free from critters and bears. Secure the pack on a hook when not in use or while traveling on boats, roads or rails. Use the handle to easily grab the back like a duffle bag… just for moving it around. The designers really thought this pack through.

The compression straps on the sides allow you to secure your load whether fully loaded or running light. Plus they allow you to quickly stash a wet rain jacket, for drying (see the N image) or an extra coat when the weather changes quickly and you want to be ready or you have to carry one of the kid's jackets.

The pack is hydration compatible, (because drinking early and often keeps you going MUCH longer) and the tube can be run down either shoulder strap for lefties or righties. (See image K) Plus, the load lifter straps on the top of each shoulder allows a perfect fit as your gear gets used during the day.

The Kelty Redwing 50 is so versatile it is my GO TO pack for a day hike or a multi-day multi-pitch climb in the mountains. JUST MAKE SURE YOU GET THE RIGHT SIZE. A Medium/Large, If you are short and skinny like me, a M/L pack may be too "long" for you, if so… look for a SMALL, but if not just make sure you have the correct torso length as it only comes in two sizes. I would give the pack more stars if it was more adjustable for torso length, but affordability means sometimes you give up a little adjust-ability. Hope this helps someone. Thank you.


Reviewed by Richard *UT* from Salt Lake City on Saturday, March 1, 2014

I use this for school and it sees occasional use for summertime over-nighters. For school it is perfect, lots of room and pockets for everything, plenty of padding. I did notice that a different review mentioned that there was no place (hole) on the pack for a water hose from a bladder to get to the hiker. Mine did have a place right at the top. Kelty at a great price, well thought out design, I love it.

Reviewed by bert from ct on Thursday, June 20, 2013

excellent pack, great price

Reviewed by Wilbur the Fire Ant Wrangler from Barrow, AK on Thursday, May 30, 2013

Awesome product, replaces my well-worn 5 year old Redwing 50

Reviewed by Sky Dancer from Arizona on Monday, May 20, 2013

I bought one of these for doing extensive day hikes. It is great!! I love the full round zip main compartment, is so easy to get to things and find them quickly. I like this style much better, than the typical packs, that have a drawstring at the top. The side pockets are a great added feature. Usually I have to buy separate side pockets as an accessory to add on to my previous day packs. The mesh pockets at the bottom, are great for putting your sun hat in, and taking it out, as soon as you need it. It is comfortable, and rides well. It is built to carry skiis, and / or a snowboard.

I liked it so much, I bought two more, before they were sold out, or discontinued. I like the Orange Color, much better than the standard blue or black.

Get this backpack and you will be happy for a long time. P.S. It might be big enough to carry your gear for an overnighter, but if you are planning on going backpacking for a few days, you probably will want something larger, and with a bigger frame.

Happy Trails. :-)

Reviewed by Old Scouter from Texas on Friday, May 3, 2013

I have always been a Kelty's fan. The one disappointment was the lack of a hydration tube hole around the top of the shoulder straps. It has a pocket that will hold a bladder, but there is not a good way to get a tube out of the pack to use while you are hiking. I got it primarily for my bicycle commute to work, so it should work out great for that.

Reviewed by DEE from Georgia on Tuesday, April 23, 2013

This is a very well built pack with many great features. The pack is a little heavy but the quality makes up for it. The big side pockets with pass through design are one of my favorites. The kelty redwing fits like a glove. Sierra trading post was great to deal with. They processed my order and shipped it very quickly.

Reviewed by Will from North Carolina on Tuesday, April 16, 2013

I bought the kelty for a daypack and a bear hunting pack. It has worked well for the dayhikes other than it is a little high capacity. My sister has used this pack for a one day overnighter with sufficient room for gear. High Quality pack that works well.

Reviewed by Piedmont Man from Virginia on Thursday, April 11, 2013

Well made, too big for carry-on. Good for a couple nights out and I am not an ultralight backpacker.Comfortable.THe orange can be see from a long way off if off trail during hunting season.

Reviewed by CShines from Indiana on Friday, April 5, 2013

We haven't used these yet, we haven't even packed them but we are extremely excited about them. I ordered these because of the other reviews and the killer price. When we showed them to my brother in law he was floored at the price we go them for; he was already aware of the quality of the packs.