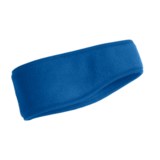 Closeouts. Kenyon's comfortable fleece earband will keep cold winds from whistling into your ears.
Average Rating based on
191
reviews
4.455497
0
5
Verified Buyer

Reviewed by Blackfun1 from Southern California on Saturday, February 20, 2016

This deal is thick! Can't wait to use it on my next ski trip!

Verified Buyer

Reviewed by Beachsunset74 from Washington DC on Tuesday, December 8, 2015

I haven't worn this outside yet but it feels nice and warm. It's a little loose on me but that might be because I have a small head.

Reviewed by Kangenfan from California on Monday, December 7, 2015

Toasty, sturdy and soft. Also snug enough even on a small head.

Verified Buyer

Reviewed by Alex from AZ on Wednesday, December 2, 2015

My ears aren't cold when I ride my bike! It doesn't get in the way of my helmet either.

Verified Buyer

Reviewed by Got a lazy bear hubby from MA on Friday, November 20, 2015

there is no label or anything but a black fleece piece.

It doesn't stretch much and chock my head.

Verified Buyer

Reviewed by epicurious from NoCal on Thursday, November 5, 2015

Great ear band for keeping ears warm. Not fashionable to wear around the city. Better use for outdoors.

Verified Buyer

Reviewed by DenverMom2015 from Colorado on Tuesday, October 6, 2015

Fits nicely. I thought I ordered purple, but got navy blue. I am going to keep it anyway!

Verified Buyer

Reviewed by Sandy from Delray Beach on Monday, July 6, 2015

Appears durable, though I won't get to use these until it gets chilly out. The fleece is thicker than I expected, but not too fat. Just not the thinner, Hi-tech fabric. Good shape, good fit.

Reviewed by MN livin from Minneapolis on Wednesday, May 13, 2015

The edges sagged, not tight like I would expect to keep the band snug over my ears. Would only provide a wind tunnel into my ears. I like a thinner band too, for early spring temps. If I needed a headband this thick it would definitely be hat weather! Maybe I have a wierd shaped head but it doesn't cover my ears completely; if I were to pull it down farther in front (as low as it can go in the back) it falls down my face.

Verified Buyer

Reviewed by Captain Kaps from Oregon on Tuesday, March 17, 2015

I go to school in Oregon, and sometimes it's randomly cold going to class, I keep this in my backpack for those situations, and it's been making them more bearable ever since.!

Verified Buyer

Reviewed by Shana from Foster, RI on Tuesday, February 24, 2015

This *would* be a great headband except for the fact that the seam, is right at the top across the forehead instead of in the back. Even if I were to rip out the tag that sewn into the seam, I think it would be uncomfortable (and would certainly leave an little mark in my skin). I will be returning this.

Verified Buyer

Reviewed by mo from WA on Saturday, January 31, 2015

Good quality for a bargain price.

Verified Buyer

Reviewed by Antonia from Portland, OR on Wednesday, January 28, 2015

Soft and cozy but a little loose for me. I'll give it to my husband.

Verified Buyer

Reviewed by ScottD from Gulf Breeze, Florida on Friday, January 23, 2015

This item is well made and does not appear cheap. It is at least as good as its middle of the road price, maybe better.

Verified Buyer

Reviewed by busymom from Texas on Tuesday, December 2, 2014

Very well made and thick, should be great for chilly soccer games!

Verified Buyer

Reviewed by catmandoodle from Chicago on Monday, November 17, 2014

I like to keep copies of this ear band on hand. Winter demands it. Good price.

Verified Buyer

Reviewed by JVB87 from North Carolina on Monday, September 8, 2014

Given the price, this earband is much nicer and more substantial than I expected. Will be perfect for the cold days to come.

Verified Buyer

Reviewed by Whiteback from North Augusta, SC on Monday, September 8, 2014

It is what it is! Good quality; good fit for my bigger than average head.

Verified Buyer

Reviewed by Another dude from Arizona on Wednesday, September 3, 2014

The fleece is very soft and dense. It works great as headband. I would definitely buy it again.

Verified Buyer

Reviewed by HNR from New York on Friday, July 25, 2014

At the time I was ordering this I was not sure like "Should I order or should I Not" reason is I have a small head/narrow forehead and I asked sierra staff if they can give me the measurement of the band it will help me decide once and for all. But they refused to give me and said it is one size fitas most, I did Not think I fell in that category. But I took a chance and ordered it, guess what when I recd. it I barely put it on my forehead just to feel the size and I was happy A. it was NOT tried by Bigger head customers and B. it seemed like it is New/unused so Yay!! I'm happy I ordered it. The true test will be when our Summer is over and Cold Winter arrives. Happy!!

Verified Buyer

Reviewed by Peg from Atlanta on Saturday, May 31, 2014

Arrived on time and just as described. Taking it to Africa for those chilly nights.

Reviewed by Roger the Dodger from North Carolina on Friday, February 7, 2014

The band works well to reduce cold and wind on your ears.

Reviewed by Len the Shopper from Arkansas on Sunday, February 2, 2014

I would recommend this. It's comfortable, doesn't slip. Keeps my ears warm without 'hat head'.

Reviewed by Charlie from Maryland on Tuesday, January 21, 2014

Good product at a good price

Reviewed by catmandoodle from Chicago on Thursday, January 9, 2014

Great for cold weather running or for getting around hand. Easy to pack. Price is right!

Reviewed by livgab from Wisconsin on Tuesday, January 7, 2014

nice, warm and good price

Reviewed by aunt e G from washingon on Monday, December 30, 2013

Does the job. Great price

Reviewed by Big Foot from Troy, MI on Monday, December 30, 2013

This is a nice band, but it does not fit someone with a small head. I will have to return this.

Reviewed by Kendra from SOuth Carolina on Wednesday, December 25, 2013

Its perfect very warm and covers the ears

Reviewed by Pastor1 from Kentucky on Tuesday, December 24, 2013

This will keep our sons ears warm and protected on his outside job! Good value!