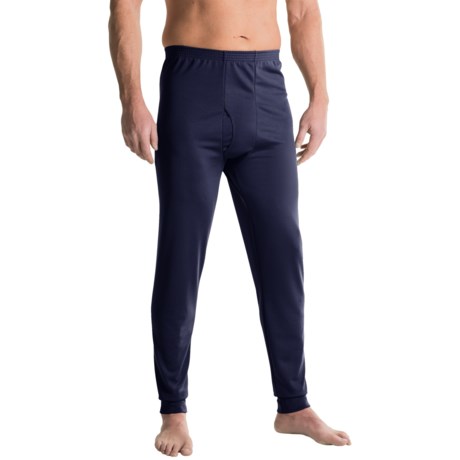 I'm not sure what the exact inseam is but I usually wear a 32 ant these have a little extra leg length so I would say a obout 34"

I'm a 32" inseam and they fit me fine. They also have elastic cuffs on the ankles and will stretch if your a bit taller

Don't know about medium but the large measures 31" from the crotch seam.

I purchased the Large-
Lying flat after 2 washes-
mine measure 29" in, 72cm
My jeans inseam are 30", the issue is the distance from waist band to crotch, which if I pull snug to not have them slightly bunch up on my legs, the waist band is quite above the jeans that I wear. And those are loose fit Carharts- not low waist "I dont work outside jeans."
They are well worth the value- better than other thermals I have worn. They regulate heat well in 30-45 temps, I'd buy them again. But if you are looking for more spot on fit, these are not.