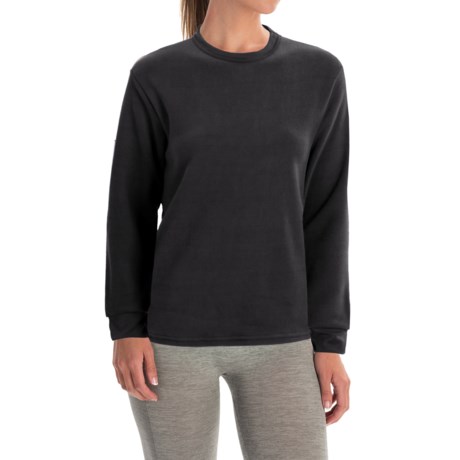 I'm over 5'9 and weigh 115, so I'm thin and have small bones and am flat-chested. The small is a perfect fit--not snug, not loose. Not restraining in anyway. It pretty much goes according to the sizing guidelines. I was going to try a medium, but decided to trust the sizing guidelines and got the small, which really is a perfect fit. This top is very soft and warm. I love it--bought a bunch of them.

It does run true to size. There is room in body and plenty in the shoulders. The only place it could be larger is in the length of the sleeves. I have long arms and they are a little short for me.

I feel it runs true to size. Since the shirt is a base layer, your normal size will fit close-to-the-body as it should so that another layer can fit over it easily. If you want the shirt to fit loosely then I'd suggest you order up a size. I bought three for me in a large (instead of medium) as I wanted them to fit loosely as pajama tops. I bought three for my Mom in her true size and these are against the skin on her. Even when fitting against the body, they are not tight as the fleece has some give to it. We both love these tops.