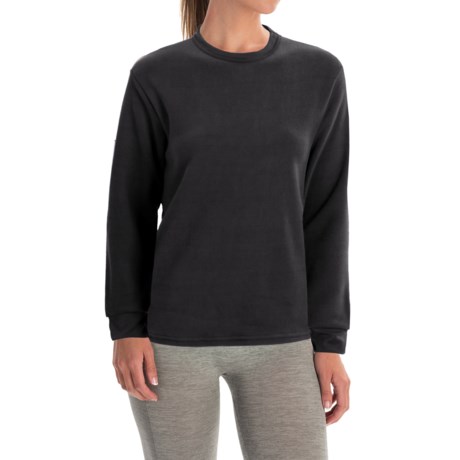 I'd call it midweight as far as physical weight of the product. But I've spent time in the Caribbean, and you're going to need another layer. At the same time, 2 layers, including this one and a t-shirt, is going to make you nice and comfy. I believe a jacket would make you hot.

It's not heavy in the sense that it weighs a lot, but it is a bit bulky because it's fleecy. It's not really bulky, and I think it would mush down if you have space constraints in a backpack, but it's not thin like some base layers.

Yes, very lightweight, yet very warm. I have one in every color and wear them outside during 25F degree days while hiking. The only issue may be that it is a little bulkier than a typical underlayer, but no bulkier than a typical polarfleece.

You will be fine on your hike with this top. Despite its dense weave, which is responsible for providing such a high degree of warmth, it is extremely lightweight. Unlike wool, cotton, or other natural fibers, the polyester fleece of this top is like a featherweight material: soft and "airy", even when wet. The fiber is synthetic, so that is why it is so light. We use it for skiing and backcountry hiking, and we never feel chilled in it.

yes the are ligh in weight, will roll real tigh for pakcing and are very warm. I wore them in the Shanandoah valley in the appalachian mountains the week i was there it was in the teens (11-19 degrees).

I live in FL and I'm like you - cold when it is in the 70's. I love this top. It is soft, thick, warm, and comfortable and does not weigh much. It feels very light.

This item is a heavyweight for being warm, but it is fairly light when referring to gravitational weight.