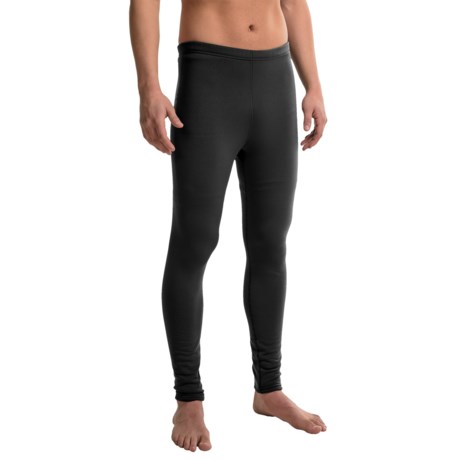 What are these made of: "Fabric: 48% polyester, 34% nylon, 18% spandex or, 61% polyester, 25% nylon, 14% spandex"

As for the rest, I own both merino wool base layers + fleece base layers. I like them both for various reasons.

- FLEECE: When I'm on backcountry expeditions, the fleece wins. Extremely lightweight, breathable, dries quickly and very warm depending on the quality/ thickness/ composition.

- MERINO WOOL: Hands down the cosiest, best feeling on my skin, very warm, and wears like iron. Tends to be slightly heavier weight-wise, however. I'll use it for skiing, day hikes, and just keeping warm at home.

I don't work outdoors for a living, but if I were, I might try two base layers... maybe a technical polyester lightweight fleece on the inside, then merino wool as a mid-layer. In fact I often use this combination anyway. Best of both worlds: max breathability of the polyester base, and excellent arming of the merino mid.

I like these. They are light and the inside is a short fleece so has good connection with skin. The outer layer is smooth/slippery so doesn't bind on clothing. These are a little thicker than duofold. They will dry quickly. They are made of 54% polyester, 31% nylon, and 15% spandex. I suggest ordering a size or two larger. There is no opening in the front which may be a consideration for men to think about. Are they better than merion wool for warmth? I think so but others may disagree.

48% Polyester, 34% Nylon, 18% Spandex. Just returned from fishing in Alaska and wore these inside my breathable waders and they performed exactly as I needed. For extreme cold I recommend these as a base followed with a middle layer and a wind/weather proof top layer. Merino wool is a great product but for the price and performance it would be hard to beat this product.