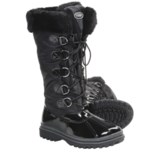 Closeouts. Fashionably functional with a rubber foot, D-ring lacing with overlay details and a faux-fur collar, Khombu's Birch High 2 snow boots provide style, warmth and weatherproof protection when temperatures plummet and clouds roll in.
Average Rating based on
12
reviews
3.583333
0
5
Reviewed by Euny from Chicago on Friday, February 7, 2014

The strings get untied really easily and the rubber footing covering the top of the foot seems to wrinkle and look almost cracked after a few uses. But it's warm and has good grip. I needed a pair of boots for commuting to and from work - so far these have been fine if a little inconvenient with the need to tuck in the strings in order to keep them from untying.

Reviewed by Karla from Michigan on Friday, January 24, 2014

I wore the boot the first night I received them to walk my dogs. I live in southwest Michigan and it has been cold here and we recently got a bunch of snow. I like these boots as they are high enough that I wont loose them in the deep snow and snow doesn't get into the boots when walking through it. The only con I have is that I wish the laces went all the way to the top. The black faux fur is stylish but that last 2 inches could have been better executed!! In all a great purchase for the price and I am going to enjoy these for as long as they will last!!

Reviewed by E from NY on Tuesday, January 21, 2014

very nice snow boot, not clunky and mannish like most.

Reviewed by Japanski from Sydney on Saturday, January 4, 2014

The boot is very stylish and cozy. Though it is 33 degrees celcius right now..........I wear a size 8 and with this boot it is very snug maybe a bit too snug.........I am yet to take them to the snow and check out their functionality!

Reviewed by Jersey Girl from Central New Jersey on Thursday, January 2, 2014

I am very happy with this purchase. The price was affordable and the shipping was extremely fast. Just in time for winter.
If your looking to set a fashion trend then move on... but if you looking for warmth, weatherproof protection, and comfort, these are the boots for you!
My only negetive comment is that because the laces are nylon you either have to double tie them or I tie them in the back. Overall, I love them!

Reviewed by Struan from Melbourne Australia on Thursday, December 19, 2013

Needed Winter Boots for my daughter who is to do a term at school in Connecticut. These are Great...

Reviewed by New York girl from New York City on Thursday, March 21, 2013

I wore these when the weather turned cold and received so many compliments on the way they look. However, they seemed stiff and tight on the top portion of the foot which axe sense later. The top "waterproof" material cracked and it was no longer waterproof. Water seeped in. Hate to throw these out, but these are only good for cool dry weather now.

Verified Buyer

Reviewed by Heather from Cleveland, OH on Sunday, February 17, 2013

I took other reviewers suggestions and ordered a size up, especially since I'm usually a half size. The bigger size allows me to wear these boots with my favorite heavy wool socks. These were exactly what I was looking for at the best price.

Verified Buyer

Reviewed by Snow Grammy from Northeast Ohio on Monday, February 4, 2013

Having both osteo and rheumatoid arthritis, as well as fibromyalgia, I have a tendency to hurt all the time and avoid getting out in the cold weather. Living in Northeast Ohio, cold, damp, snow is a fact of life during the winter. These boots are not only warm and cozy, but keep my feet dry and help support my weak ankles. I no longer have to avoid getting out and about when the Lake Effect Snow and the Alberta Clippers hit at the same time - I can get around comfortably and safely!

Verified Buyer

Reviewed by Cindy who loves snow! from Little Rock, AR on Wednesday, January 30, 2013

Sad to say but I was so excited to order these boots for my trip to Sundance. I ordered these as well as the Martion Logan Tall Boot in black suede. My feet froze in the Khombu boot but stayed warm and toasty in the Martino boot. Did not like how the Khombu creased in the top of the foot upon immediately wearing. Also did not like how hard it was to lace them tightly...poor design with laces. Cute boots and were very stylish with jeans tucked inside. But, overall quality was poor. I will be returning for a refund. I wish I had ordered the Sorrell brand and will probably order these when I can afford to get the pair I really want for next year! At least the Martino boots were awesome and kept my feet warm at Sundance while walking around in the snow!!! They are fantastic!!!!!!! Sorry, Khombu!