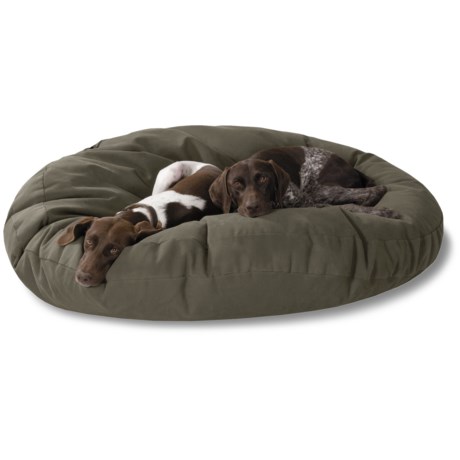 Made in Pakistan, not USA or India!
Verified Buyer
Reviewed by Lee Butcher from Missouri on Tuesday, November 17, 2015
When I saw that these are now being listed as Made in USA or India, I called before I ordered to request one made in America, and was told that one would be sent. When I got it, it was made in Pakistan. We've bought 4 of these over the years, not only because our Wiemaraner likes them, but because we support American workers, not 3rd world sweatshops and the companies that profit off of them. I called STP and told them about it, and they said they, indeed, had sent a note to shipping, and the guy who filled the order had "gotten it out of the USA bin". I asked how could they know to put it in that bin, since the box was unopened and sealed when I received it, and the unfolded pillow cover was still folded-as-packed and zipped. No reply. They WERE good enough to tell me they would send me an American made bed, and to go ahead and donate the Pakistani pillow to the Humane Society. I said I would, and thanked them. A few days later, I received an email saying my order was cancelled with no explanation, but I would say it's because there are no "Made in the USA" beds to sell. I then checked our two remaining old pillows. Although the one purchased in 2011 is made in the US, the one we bought in 2013 was also made in Pakistan!! What a crock! Sierra Trading Post is advertising Made in USA and India, and Kimlor is making them all in a country that despises the US, and pays slave wages to people who pay no taxes here. But Kimlor is still charging American labor prices, and making all the profit, and though STP has been notified, I see that these are still being touted as "Made in the USA or India". This is false advertising of the bait and switch style. Very disappointing! I can't trust Sierra Trading Post to be honest, much less vigilant, anymore. What a rip off.
Similar items and more information in the following areas: