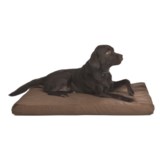 Closeouts. Treat your four-legged family member to Kimlor's memory-foam dog bed; they're sure to enjoy the dog-specific support, warmth and comfort of the scientifically engineered memory foam. Whether it's resting achy joints or a finding warm spot on a cold floor, your dog will experience the ultimate in comfort when sleeping or lounging.
Average Rating based on
7
reviews
4.571428
0
5
Verified Buyer

Reviewed by Kate j from Minnesota on Monday, April 21, 2014

Its a nicely made bed with what seems a good quality memory foam in it. Has a water repellant barrier inside the zip outer covering. I just got it so I can't speak for durability long term, but I was pleased with the appearing good quality overall. I have an older dog in need of support . This meets that need.

Reviewed by BB from WI on Tuesday, March 11, 2014

My dog loves this bed! We have several different kinds around the house, and this one is by far his favorite. It's really comfortable... I even like to sit on it sometimes. If it were even cheaper I'd buy several more to put in the back of my cars and around my home.

I was worried that it seemed a bit thin (2") but that is not a problem... it is a great dog bed.

I was also worried that the bed would be too bit for my dog, a tall Irish setter mix who often sleeps stretched out at what seems like 6' in length. No worries, though... he happily curls up and fits well on this dog bed.

My dog and I both highly recommend this dog bed.

Reviewed by Sher from Wisconsin on Friday, March 7, 2014

STP, I have to let you know how totally awed we are after opening the TWO Kimlor Memory-Foam Dog Beds we purchased earlier this week!! The of mattress is solid one piece construction of dense foam (NO crumbly stuff)! We have sibling Golden Retrievers who couldn't wait to try them out; their over-joyed response was, "mom, dad... you"re the BEST"! They are doing great health wise so their new Kimlor beds will make the rest of their years comfortable, supportive and just plain "golden"!!


Reviewed by Lost in Forest from SC on Friday, February 28, 2014

This is a nice product, but my dog will not sleep on it!

Reviewed by OCULUS from Rensselaer, NY on Tuesday, February 25, 2014

I can't count the number of dog beds we've been through, but this appears to be the best in terms of quality and construction and USA made. I am currently using AKC foam beds from STP and they (my pair of Newfies) love them--even though the mouse fur covers aren't easy to sweep clean and are only one-sided. We also have the Olly Dog two-tone thin pads which they are happy to use if the foam is not handy.

These Kimlors use YKK zippers inside on the high grade foam cover and then YKK zippers on the sturdy, 2-sided exterior canvas covers--much easier to sweep clean and wash. Have not really used these yet but I am confident they will be a hit. The memory foam is clear and clean, as opposed to the composite foam particles/pieces fused together in the AKC beds.

My only concern is the heat retained by memory foam. Personal experience with pillows and others owning mattresses indicate that they are very warm and trap perspiration making the bed clothes a soggy mess. I worry about these being TOO WARM for Newfies and intend to use them only in winter on a chilly brick-tile kitchen floor…that they value for cool comfort in hot weather.

Otherwise, they are a very serviceable color and fold easily to get out of the way--lest they become a pedestrian hazard in a smallish kitchen. And STP's relatively high price is indicative of the quality of the Kimlor products line and I expect good service and long use at a price that is far below the suggested (sky-high) MSRP.

Reviewed by Sue from Chapel Hill on Thursday, February 20, 2014

Great product and a great price from Sierra Trading Post! Not only do I love these dog beds, but my dogs love them too. There are many different dog beds all over my house, but once I bought two of these, it didn't take long to make these my dogs' favorite dog bed! I have three labrador retrievers, and this bed is perfect for them - large enough to spread out, and thick enough for them. Great

Reviewed by TK Stewart from Arlington, Texas on Monday, February 10, 2014

I can't say enough about how great this bed is. If you love your dog as much as I do, this is simply the best dog bed on the market.

My wife and I also sleep on a memory-foam bed. My 80lbs lab loves it. We have been trough several beds with her. Labs are like organic shredding machines. But this bed solves that problem. It has a heavy duck cotton cover with a very well hidden zipper. Both the cover and the foam are washable. She is almost 4 years old so she has outgrown most of that chewing. However, I have caught her trying to find the zipper to no avail. Now, when she is ready for bed, she wants to me to come with her, curls up in a little ball in her bed on the floor beside me, and has a full uninterrupted nights sleep.