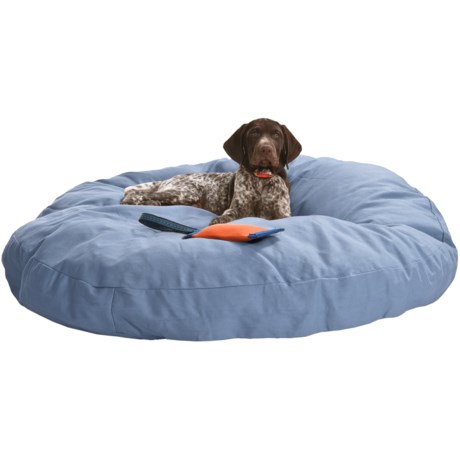 Best I've Found, The Outside Cover is TOUGH
Reviewed by granadaCoder from NC on Friday, August 22, 2014
This is the best dog bed I've ever found. The value is in the cover of the bed, dogs can scratch at it and it holds up.

Please note that when you get the bed, the (inside stuff) cushioning will be very fluffy. And obviously, like anything in the world ( including a multi thousand dollar mattresses)... it will "flatten" over time. It will still be dog comfortable for a long time, but it will not be the "first day" fluffy. But that is "normal" to me.


The cover is tough. And my dogs have completely obliterated other dog beds. Sometimes I can hear them clawing at this bed and I kinda laugh because I know they can't dig-up this bed like they can most of the others.

So I say the value is in the cover. And the cushioning is good, but not impervious to time with something laying on it day after day.
You can always add some fluff later....

I've owned 3, and this is the first place I come when I need another one.

Here is a bonus idea. One bed was in the garage laying on the concrete. I went to a Home Improvement store and got some rigid foam, and cut it to the size of this bed, and cut it into half into 2 pieces (So it would fit into cover). Put this on the bottom (but inside the cover) and now you can have a thermal break between the cushioning and the floor, but the dogs can chew on it.

I don't leave many reviews. But this product was worth talking about.