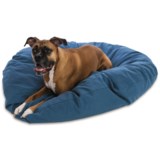 Overstock. Kimlor's jumbo round dog bed is a super-sized sleeping haven for your four-legged friends. Paw-proof upholstery cloth won't rip or tear, even when dogs dig at it, and the cover zips off easily for quick clean-up in the washing machine.
Average Rating based on
743
reviews
4.387617
0
5
Verified Buyer

Reviewed by RockinRobin from Indiana on Tuesday, December 26, 2017

I've bought these for years because my dogs love them. They need more stuffing in them, which they do have more than years earlier. They bottom out when the dog lays on them, but the sides poof up around them and keep them warm. I put the beds on top of another type bed to insulate them from the cold porch floor. They really like that & sleep toasty warm. They last several years when used outside on the covered porch. Eventually the fabric gets rotten & weak. I save the old stuffing & put it in the new ones for extra loft. The 50 inch size is perfect for my 100 pound labrador.

Verified Buyer

Reviewed by butmaxabeer.com from Utah on Tuesday, December 26, 2017

My tall, 110lb Great Pyrenees fits on this bed nicely. It's quite durable as well. Very worth the money for a large dog.

Verified Buyer

Reviewed by MKW from Maryland on Monday, December 18, 2017

Our two dogs like this and have been on it since it arrived. My only minor criticism is that the fill doesn't completely fill up the cover. I like that there are no corners for the dogs to tear at.

Verified Buyer

Reviewed by Stephanie from NC on Saturday, December 16, 2017

Super tough cover that is great for a German Shepherd that loves to dig on the bed. Also large enough for a 100 lb. dog to stretch out. Great value.

Verified Buyer

Reviewed by Maksie's Mommy from Bay Area, CA on Saturday, December 16, 2017

This is the 2nd of these I have bought. My daughter has a lab mix, I bought one for him 2 or 3 years ago. He loves the bed, he scratches it up, kneads it, pushes it around until it's juuuusssttt right. The cover is amazing, nary a hole, washes up like a dream. However, the dear boy outgrew it. So, of course, he needed the larger one. Same amazing cover. This one, however, it seems like it came with a filler for a smaller size bed. So, we stack them up, we may look at opening the inner bed and adding some chopped memory foam. he loves the bed. The smaller inner bed is the only reason I'm giving it a 4 star. These beds are durable and a great value, too.

Verified Buyer

Reviewed by Bluemom5 from Indiana on Thursday, December 14, 2017

Ordered this bed 4 years ago & my dog loved it! Was thrilled to be able to order it again as she was needing a new one from digging a hole in it over time. She's ver happy!

Verified Buyer

Reviewed by Garth from Florida on Sunday, December 10, 2017

70 lb GSD. Loves her new bed. Looks like good quality, nice size. Will see how it holds up.

Verified Buyer

Reviewed by Ragrag from New Jersey on Wednesday, November 22, 2017

My 60 pound dog loves this large, puffy dog bed, and finds it an acceptable alternative to jumping onto our own bed. For our pet, bigger is better! Cover seems tough, easy to remove and launder. It does what a dog bed should do.

Verified Buyer

Reviewed by him from there on Monday, June 19, 2017

The filling came in a nylon bag and I was unable to spread it evenly inside the cover. The filling does not provide any minimal support either. The cover seems sturdy enough.

I returned it the same day it arrived...

Verified Buyer

Reviewed by Mike from St. Louis on Monday, May 8, 2017

Nice bed, but my Dalmatian ripped the cover within 36 hours. Cover now unusable.
So much for "paw-proof upholstery cloth won't rip or tear..."