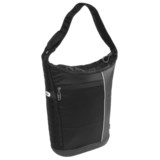 Closeouts. Make life on two wheels easy, Koki's Bagatelle cycling pannier bag has an easy attachment system and tall-narrow design for bikes without much heel clearance.
Tall and narrow shape is ideal for compact bikes with smaller frames or wheels that don't offer much heel clearance
Zip-close top opening
Zip front pocket
Interior organizer pockets and sleeves
Tough, waterproof rubber sole (bottom)
Removable rain cover
Hidden rack attachment easily clips onto rack
Two-position shoulder strap/handle
Reflector tabs on each side
Strap length: 22"
Drop: 11"
Dimensions (HxWxD): 16x11-1/2x6"
Capacity: 1100 cu.in.
Weight: 1 lb. 8 oz.
Made in Vietnam
Average Rating based on
28
reviews
4.000000
0
5
Reviewed by Karlitabandita from Washington on Thursday, January 23, 2014

Boy was I excited to find this cute, fictional, seemingly durable bag on sale at STP, and even more excited when it arrived at my house last week. What a great bag! After I figured out how to get it on and off my bike rack easily, it was a snap to use it for work every day. Loved it. I enjoyed using the bag for exactly 6 days, until yesterday, when riding home from work, the bag brushed up against the edge of a gate I rode through in a park and caught a corner, sending the bag flying off the rack subsequently breaking BOTH of the clips clean off of the bag. WHAT?! It was a very low impact event in the big scheme of what can happen on a daily bicycle commute, so I think the overall durability of this product is dubious. I wanted it to work out so badly! Now I will have to package it up and send it back, hoping for a refund.

Reviewed by Philly Family from philadelphia on Monday, December 23, 2013

While I'd appreciate the storage space, when carrying it, I wanted it look like a large purse, not like a pretty steamer trunk -- it is the latter and is going back. Nice and well-made, though, if you are jolly and green ;-)

Reviewed by Katrina from Ithaca, NY on Tuesday, December 10, 2013

I've been using these panniers almost everyday for a year now and they're still holding up great. I use them for commuting to work and grocery shopping. I would definitely suggest these to friends. Really waterproof even without the slipcase. The spring clips are AWESOME. No fussing around with getting them on and off my bike like I have with other panniers. The strap is a little awkward with only two positions for over the shoulder, but I don't carry them like that much so I can't complain.

Reviewed by cycling fool from Arcata, CA on Wednesday, November 6, 2013

I like these panniers so much I have ordered 3 of them, two to use at once & one for back up down the road when these get worn down. Great size for running errands around town & more stylish than some of my larger panniers. There are extra pockets inside as well as a rain cover. the clip on mechanism has a zipped cover so the pannier ends up looking more like a purse. I have had a number of people comment on my panniers when I am riding around town, inquiring where they can purchase them. The price is great too!

Reviewed by flowerdog from California on Tuesday, August 6, 2013

I needed narrow panniers for my small folding bike and I prefer a pannier with a fast clip on attachment. I don't like wrestlng with hooks, bungies, and s-clips so these are perfect.

These are tall, narrow and wide enough on the bottom to fit a fair amount of groceries although I'm hoping to use them mostly for taking trips that last a few days and incorporate trains. They are very cute and I bought the matching purse/bag that fits on the handlebars so I am very matchy/matchy. I feel like a six year old -- all I need is streamers in my handlebars.

I also really like a pannier with a rigid bottom -- it's easy to clean and won't get that [...] feeling that cordura and packcloth gets after time. I'm sure I am paying with extra weight but I'm not a super-athlete and the sacrifice is one I'm willing to make

Reviewed by Carol from Chicago on Tuesday, July 30, 2013

This bag is perfect for my bike commute. I can fit my laptop, some work files, wallet, phone, etc. I actually bought two bags so I can use one on either side of my bike rack when I need to take workout clothes etc. I love the cute design too, which makes them look less masculine and allows them to double as work bags. They are a little heavy though, even when empty.

Reviewed by MetMilo from Washington DC on Monday, June 24, 2013

My bag fell off right in the middle of the road, popped right off the rack when going over a pothole. I do not recommend this bag for commuting, but it should probably be OK if you are on a more relaxed ride on trails or streets that are not bumpy and torn up

Reviewed by LiteraryChic from U.S. on Wednesday, May 29, 2013

I love this bag. I've been looking for something like this - fashionable, functionable - for a while now, but did not want to spend a lot of money. This bag was the perfect compromise. Also, I did waterproof it, because it did not come that way and it seems to be working out well. All in all, I'm very satisfied.

Reviewed by nycingrid from NYC on Saturday, May 11, 2013

I purchased the green bag. It really is cute. Many people have written very helpful reviews about this bag, which I recommend you read before buying it. I am going to try to only add information I did not read before. First, oddly, the inside bottom of the bag is unlined. When you reach your hand down to the inside, bottom of the bag, you will feel the waffle-pattern of the inside of the rubber sole. (It is not waffle-patterned on the outside.) I also found a very small washer down there, but its loss does not seem to affect the bag (yet). On the inside, in the back is an approx. 9.5 (deep) x 10 inch zippered pocket. However, there is very little give, so you cannot put much in there - maybe a letter or a secret piece of paper. I am not sure of its use. In the front inside there is another pocket, approx. 5.5 (deep) x 7 inches, that holds the little raincoat for the bag. Attached to the front of that is another piece of cloth, sewn so that there are slots for two pens or pencils in the middle and one slightly wider (3 in) item on each side. That whole raincoat/pencil.etc. pocket is only attached to the larger bag at the top, so there is no problem stuffing things into it. There is also a little key-holder attached to the top of that pocket. The whole bag appears to be fairly well-made and sturdy. The handle, as other people point out, has two possible lengths. This is because there is a snap at the loose end of the handle strap and there are two places where you can snap it, one at the other end (this is the way you would have it on the bike) and one near the first snap. You can see it attached at this second location in the main picture. On the enlarged picture, you can probably figure out where the snap would be. I really think that this is a great bag, but make sure you read the other reviews about the issues with removing the bag from the bike, especially when loaded with stuff.

Reviewed by Pat from Chicago on Wednesday, May 8, 2013

Sturdy, easy on and off.