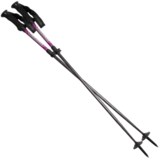 Closeouts. Ideal for through-hikers and space-conscious adventurers, Komperdell Carbon Approach Vario 4 trekking poles offer superior strength in an ultralight, foldable design.
Average Rating based on
17
reviews
4.176470
0
5
Reviewed by Bill from Florida on Tuesday, June 27, 2017

Likes: The pole is sleek with only one protruding clamp. Pole is lightweight.
Dislikes: Poles do not store disassembled well, the bungees are so tight that they do not allow the disassembled sections to lay against each other.
The very tight bungees also split the ends of the carbon fiber body of the pole during storage.
The grips also caused my hands to turn black after a full day's hike.
Komperdell will repair for three years but the last aluminum poles I had lasted 15 years before I lost them and my hands stayed clean.
I regret this purchase.

Verified Buyer

Reviewed by Queen of Cats from AZ on Thursday, November 10, 2016

Have used these for 4 hikes now. The 6 oz weight per pole is so much lighter than my former 11 oz poles. Please note that this has limited adjustability - fine for me as I use 105-110 for hiking and 110-115 cm for my tarp tent support. I have mixed feelings about the fold up vs. collapsible design but so far have no complaints.

Verified Buyer

Reviewed by Olderthandirt from Asheville NC on Friday, October 21, 2016

Bought these and the Komperdell Pure Carbon poles that were much less expensive. Holding one of each in your hands the weight difference was quite noticeable. The Pure Carbons are only about 2" longer when broken down, and fit easily in my carry-on. And even though I'm one of those people who tends to think that more expensive means better, I sent back these Vario 4's and kept the Carbons.

Verified Buyer

Reviewed by Andy Nunyer from New Texas on Thursday, October 20, 2016

This is the first and only time I have ever been disappointed in STP. Not a major issue, the poles will perform just fine.
The poles we received are not the color of the ones pictured. It was important, not critical.

Verified Buyer

Reviewed by DCMLAW from Corte Madera CA on Wednesday, August 31, 2016

These appear to be very well made light poles. Many trekking poles will not collapse to a length that you take on board a commercial flight. These unscrew and fold like tent poles to about 15". When the poles arrive, make sure to test whether you can unscrew the lowest section. I had to return twice until I got a pair that I could unscrew as there must have been a manufacturing error that over-tightened one pole each on each shipment.

Verified Buyer

Reviewed by Fathomthat from Central Illinois on Wednesday, May 18, 2016

Purchased specifically for my wife and I chose Komperdell because the poles I've used for 100s of miles have not failed. These have a twist design that allow for compact breakdown and tilting baskets.



Verified Buyer

Reviewed by Dennis from Columbia, MD on Friday, February 12, 2016

These are adjustable and incredibly light. Perfect for a long trek.

Verified Buyer

Reviewed by Bobbie from Colorado on Sunday, May 24, 2015

I just got the poles and they fit in my carry on bag for the airlines and that was the point!


Reviewed by Sierra from Maine on Wednesday, May 20, 2015

I bought two pairs, one for my husband and one for myself, to bring with us on a trip to Greece. They fold easily to pack in our carry- ons or packs and are extremely light. Nonetheless, they are sturdy when assembled and have served well hiking on Mt. Olympus and down the Samaria Gorge. My husband also uses them regularly for walking sticks in cities and towns. Sadly, I am on this site looking for replacements as he lost one this afternoon.

Reviewed by SRC from Gardnerville, nv on Friday, March 27, 2015

The actual poll weight (by my scale) is 229gms/poll (or 8oz/poll). These are not the lightest polls that we own. We have some Komperdell rigid 110cm that weigh 155gms/poll and some twist lock polls that weigh 200gms/poll. I am not a fan of twist locks (they can be very hard to tighten) so I bought these for my wife. As far as comfort, the others are better, being a little better at sucking up the shock. These are stiffer but stronger.