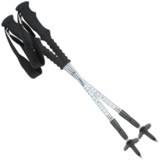 Closeouts. Extend your hiking day and save your knees with Komperdell Contour Titanal compact trekking poles. Sized specifically for women, the three-section design packs down small and an extended grip zone offers extra versatility.
Average Rating based on
5
reviews
4.600000
0
5
Reviewed by SB from Central California on Saturday, November 9, 2013

Bought these for my son due to the smaller grips. He specifically didn't want cork handles like my walking sticks... I asked how he liked them after our backpacking trip: "grips were comfortable". "Perfect weight". "Only loosened one time" "straps were really comfortable". "Lower gripping section worked well". So yes he liked them.

Reviewed by lovesnow hiker from Pennsylvania on Tuesday, October 22, 2013

This get very short and compact, when I travel. It fit in my duffle bag easily. I like the form which extend to lower. It make easier to grip when I am walking in the side of steep snow slopes. The bottom basket is too small and have to change to bigger one in the snow condition.
The bottom part at crewing section is not easy to loosen. If I pull too much, it completely come out. The joints freeze when I get in wet snow. So mostly I use for the trekking.


Reviewed by Susmita from DC on Friday, October 11, 2013

I bought these for a multi-day hiking trip and they are wonderful. My regular hiking poles do not collapse down enough to fit into a checked-in bag, so I bought these for my trip. They compact down small enough for a carry-on (if you can get them through security!). They have two different places where they adjust, so there is a lot of room for different height users (I am 5'1"). I used them over a four day period hiking as much as 9 miles of pretty strenuous hiking (climbing and descending) without any problems. Highly recommend.

Reviewed by sfts from Pennsylvania on Tuesday, August 20, 2013

I took these poles out for a test hike this weekend. 10 miles of moderate hills with several miles of that having rocky terrain. The poles were very lightweight and were no problem for me to carry. The foam grips were almost small enough, which is saying a lot since I have tiny hands, and were comfortable. The biggest problem was that I couldn't get them to stay at length. I had to reset the bottom section several times during my hike because they would slowly collapse. I weigh 100 lbs (120 lbs with pack) and if they won't stay extended for me, well, I wouldn't trust them with someone who weighs a lot more or who really leans on them. The only other negative was that the (padded) wrist strap would not adjust short enough for me to use the "straight through" method; they were fine for the "up from the bottom" method that I prefer.

All in all, I'm happy with the value since I paid the clearance price and these are very lightweight poles, but if I'd paid full retail, I would be upset about the latches not tightening enough to keep the poles extended.

Reviewed by Honeeecomb from Washington on Thursday, June 27, 2013

Being new to the Great Pacific Northwest I am ahead of the coming winter season. Actually no. I plan to use the poles for walking and slow hiking during the summer months. My big goal is to learn how to properly snowshoe this winter. These poles are easily adjustable. It was a small challenge to put the rubber tips on tight. So for a newbie these poles are the answer.