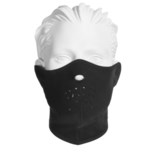 Closeouts. Komperdell's neoprene-fleece face mask provides ultimate cold-weather protection thanks to windproof, water-repellent and warm neoprene and fleece construction
Average Rating based on
25
reviews
3.320000
0
5
Reviewed by Pappadan from Pennsylvania on Saturday, January 25, 2014

Purchased two of these masks for me and my wife. The mask is good quality, but the fit could be better. My eye glasses fog over in a few seconds which prevents me from using the mask. The wife does not wear eye glasses and will continue to use her mask.

Reviewed by TB from MN on Wednesday, January 22, 2014

Purchased for my husband to wear in out minus 24 degree weather.
He usually uses the Turtle Fur bandanna, but it gets too damp and freezes up if he wears over his nose and mouth.
This one works fine.

Reviewed by baller80 from Iowa on Wednesday, January 22, 2014

Not the warmest in the world but for the price can't really go wrong

Reviewed by Broccoli Eater from Maryland on Tuesday, January 21, 2014

I have a heavier face protector with a strap that goes up over my head, which didn't fit well with my bicycle helmet. Ordered this when the temp here in Maryland starting dipping into the single digits. This, along with a lightweight balaclava and swim goggles (an still looking at extreme-weather eye protection) make my morning commute comfortable. It's a simple wraparound design and stays in-place without getting in the way. Good product.

Reviewed by Kerry from Colorado on Monday, January 13, 2014

This was neither too big nor too small, it just didn't work for me. I could stretch it to make it tight around the neck but the part over my face was very loose and would ride down everytime I moved my mouth. It doesn't have any fabric behind the ears, only behind the neck (I don't know why). So unless your arrangement of neck, chin and nose is perfectly in tune with Komperdell's ideal then it just doesn't work.

If it fits you, it could be a good thing. Material looks quite nice, holes for breathing and all that. Comfortable fleece inside.

Reviewed by MTTiff from Montana on Monday, January 6, 2014

Nice weight and good wind protection. Somewhat adjustable.

Reviewed by Madhavi the Mom from Oregon on Saturday, December 28, 2013

Got my man a neoprene face mask for his colder month rides. He likes the fit, and this with a hat is just right. Convenient velcro closure in the back. Didn't feel gross or hot.

Reviewed by Lrbear88 from Chicago on Thursday, December 26, 2013

This was very uncomfortable where the Velcro fastens in the back of your neck. Way too stiff.

Reviewed by katymay from California on Thursday, December 26, 2013

Purchased as Christmas gift for family member and it will be getting returned, :-(. The 'one size fits all' style did not fit right and would slide down every time he looked left or right. He decided to return it and look at similar products (main appealing feature being nose holes so glasses don't fog up) made by other companies, specifically Outdoor Research.

Reviewed by Amy from Florida on Thursday, December 26, 2013

This seems to be a great gadget. Excellent wind resistant neoprene at the nose and mouth, good breathing holes, nice fleece elsewhere. The velcro closure at neck works fine, a little big for me but will work. And this gadget is small and compact, so if you don't need it later in the day, can be stuffed into pocket no problem. Also pulls down very easily while wearing for snack on the lifts.