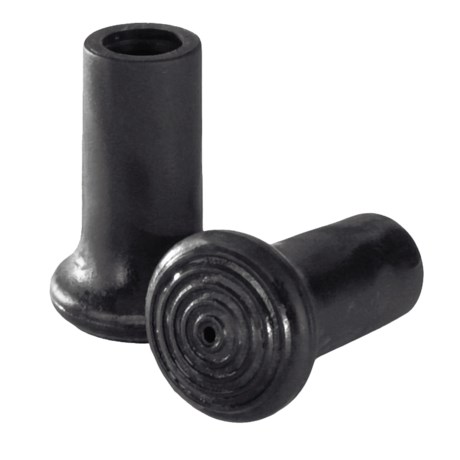 VERRRRY BAD write up had to go to Q&A to find out if 8mm or 12mm
Reviewed by bad knee trekking poles keep me walking from KS on Saturday, August 17, 2013
#1 First had to go to Q&A to find out what size these tip are & found out they are the 8mm tips.
#2 I have a pole with 8mm tip & the 8mm rubber tips do not have the steel washer to keep the carbide tip from going through the rubber like a knife through butter. Here is what Komperdell says.

A simple but secure press-fit design enables the Tip Protector 8mm to fit over top of Komperdell Walker travel canes and any other Komperdell pole that doesn't have carbide flex tips.

From what I have been able to find out if you have a pole with the 8 mm tip there is no tip that will last any more than a 100 miles as the 8mm tips do not have the steel washer like the 12mm tips do. At 6.99 for the tip & 5.99 shipping I keep my tips in my pocket till I need them, it you get several tips when you order you can save on shipping. Found one sight cheaper but had to pay shipping on each set of tips so if you have found as I have that you need more than one set of tips this is the cheapest I have found.

Oh yes I did tracked down the US distributor for Komperdell in Washington State, they were very nice but do not have any 8mm tips with the steel washer.

If your Komperdell trekking pole have the silver - aluminum just above the carbide tip it is most likely 8mm so save money & get several tips as you never know when they will no longer have them, a long time shopper here.

I am not unhappy with Sierra, if you go to Q&A you can find the size, but with Komperdell for making a 8mm pole with carbide tip & not making a rubber tip for the carbide tip!
Most helpful positive reviews
Similar items and more information in the following areas: