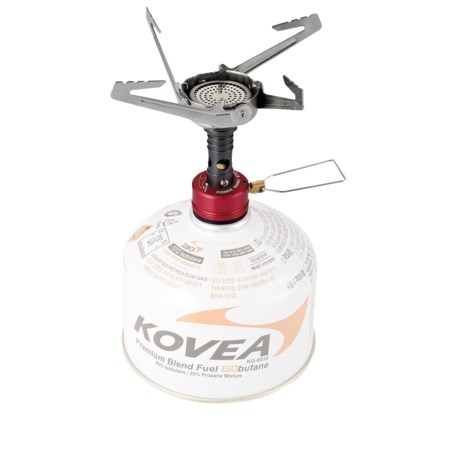 Nice, sturdy stove
Reviewed by Sage Rat from Cowiche, Washington on Monday, November 9, 2015
I generally use a homemade alcohol stove on my summer backpacks, but our recent hot,hot, hot summer forced some public land agencies to ban their use due to extreme fire conditions. When I saw the Kovea Power Nano on sale for a very good price on Sierra Trading Post I ordered it for times I couldn't use my alcohol stove.
At 3.3 oz (4 oz with carrying case) its an oz or two heavier than some of the titanium models on the market, but I figured I'd wouldn't notice the difference in weight in my pack as much as I'd miss the additional $20 bucks missing out of my wallet.
The burner is slightly concave, which gives the stove a measure of wind resistance. I boiled up several pots of water in a stiff breeze, and though the stove did flutter a bit when hit by gusts, it kept right on burning. Because of the concave shape of the burner the flame is an inverted cone. This seems to concentrate the heat toward the center of the cook pot. Not a problem if you are just boiling water for coffee or a dehydrated meal, but if doing any actual cooking you will need to stir more often to avoid burning. The flame seems relatively adjustable. I was able to dial it down to a slow simmer or crank it up to "blow-torch".
The four pot supports seem pretty stable. They handled my wide-bottomed teapot with no problem.
The only negative I can see is the amount of noise the Power Nano emits. When cranked up to full boil it sound very much like my old MSR Whisperlite white gas stove. But I was able to get a half liter of water to a full boil in 2 min 40 seconds, so you don't have to put up with the noise for long.
I'm giving it 4 stars, only subtracting a star due for the extra ounce of weight (which I'll never notice), and the noise. I've only used it a few times, but it seems like a sturdy little stove.
Most helpful negative reviews
Similar items and more information in the following areas: