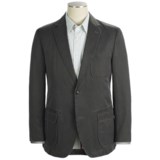 Closeouts. Men going for a truly rugged persona will like this deconstructed Kroon sport coat, tailored from a double-faced nailhead cotton that's been garment washed to complement your designer denims.
Average Rating based on
20
reviews
4.650000
0
5
Verified Buyer

Reviewed by Neil in Calif from Southern Cal on Wednesday, April 30, 2014

Casual, perfect fit; although material is a little stiff. Wasn't sure I would like the red, which is more of a faded burgundy. However, with jeans or black or any number of color combinations it works well. I have bought all four colors in this jacket. Sadly, STP is running out of Kroon jackets. I own 14 of them. All from STP. Casual cotton sport coats are hard to come by, especially with STP prices. Hope they get more in the future. But now that I think about it, isn't 14 enough?

Reviewed by StuffsackStu from usa on Tuesday, February 18, 2014

very cool coat, but i agree, it is good in the chest, big in the middle. however, most seamstresses/tailors would likely charge 40-50$ to correct this and then it fits perfect. The savings exists even with tailoring factored in.

Reviewed by Gene from MN/CA on Friday, February 14, 2014

This is a very nice casual jacket. Well constructed and excellent quality with a sharp look. I ordered a 40S (I usually wear a 39S or 40S), and the sleeve length, shoulders and chest were a good fit. However, the body from the upper chest down was large. A more tailored/athletic cut through the midsection would have been nice.

Reviewed by StuffsackStu from USA on Tuesday, February 11, 2014

incredible construction, but i agree with fellow reviewers the middle is 2 inches too big. I have a large chest and 46r was great in the chest and a little wide in the middle. I then purchased 44r and it was perfect in the middle but to constricting in the chest. Keeping the 46r and probably having the buttons moved 1inch if it does not disrupt the lay of the jacket. Otherwise, perfect.

Reviewed by Maryla from Los Angeles on Tuesday, October 29, 2013

I bought 2 earlier versions of this jacket a few years ago and just bought 2 more because my husband wears them constantly. They're casual, durable and a great alternative to a wool sportcoat.

Reviewed by Danoindenver from Colorado on Wednesday, October 9, 2013

Got mine in the mail and saw the amazing quality. Tried to buy another and they were out of my size... too bad! Wear with sport coat and jeans.

Reviewed by Don Don from Ohio on Tuesday, October 8, 2013

A man's jacket should be just long enough for the bottom edge to rest in his hands with his fingers folded at the second knuckle. The (short) Kroon sport coat I purchased passed that test perfectly. The sleeves, however, were an inch or more too long. This was the first time I've ever experienced this problem with a sport coat, and it meant I had to take the jacket to a tailor, which cost me a nice chunk of my savings.

Reviewed by jocour from Navajo Nation, USA on Monday, September 30, 2013

I should have said "Sierra Trading Post"--- Sorry.

Reviewed by jocour from Navajo Nation, USA on Monday, September 30, 2013

I will wear it with jeans and khakis. It is well constructed and casually stylish- I work in health care and this jacket is perfect for social situations on a rural Southwest Indian Reservation when a sport coat and oxfords is too much and a denim jacket and work boots is not enough. I will also wear it on trips to the Big City (6 hours away) for a casual night on the town. It was a little long in the sleeves, but then most jackets are for me. Nothing a good tailor can't remedy (although the nearest tailor is 2 1/2 hours away). At 75% off I couldn't beat the price!

This is not the first item I have purchased from Sierra Nevada. I have worked in some of the most remote places in North America and it is simply not always practical for me to drive 6 hours to the nearest city to buy quality men's clothing. Sierra Nevada is wonderful. I can order items with confidence and, no matter where I live, they always manage to find their way to my doorstep.

Reviewed by Noctone from Oregon on Friday, September 13, 2013

This is a nice casual jacket that can be worn with jeans. Fortunately it has a trim fit that goes with size 40 of the 70's.