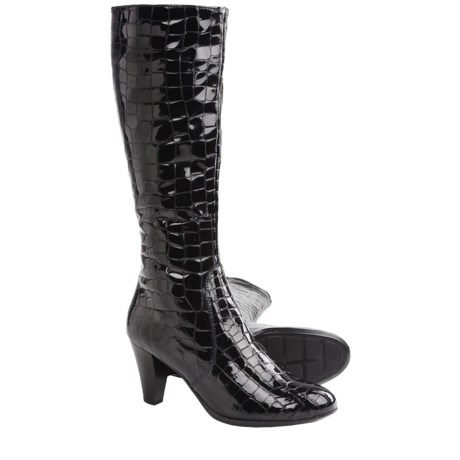 I sent these back because I have unusually large calves, but they are beautiful boots. I don't recall if they are insulated with fleece, but La Canadienne is the best boot for snowy weather. I already have 4 pairs of LC and they are the only dress boots I will wear in the snow. You can step in puddles, and your feet stay dry. Totally worth the investment.

Yes, these boot are appropriate for cold weather. They have a textured treed on the sole and heel to prevent slips and have a fleece lining. I wouldn't want to wear them during an afternoon of sled riding, but certainly work for dress purposes in most weather situations.

I live in Minnesota so I expect a lot from my boots. I wore these to a concert at my daughter's college when the wind chill was in the double digits below zero and my feet stayed perfectly warm dodging around campus. I would not wear them on an extended outdoor trek only because of the heel. The do have a sort of thin lining that helps keep your foot comfortable. Also, EVERY time I wear them I get multiple compliments - from both men and women. They are really sharp looking and do get noticed!

Hi, I bought the red boot and have worn it in cold weather. It does have a thin fleece type lining. If you are going through a lot of snow, I would spray them with a water proofing agent. After wearing the red boot and liking them so much, I bought the black also. They make a beautiful dress boot. I would not say these are appropriate for shoveling snow or long walks in the snow, but a drive to work or shopping they would be fine. They do have a decent traction pattern on the sole of the shoe. I live in Minnesota and we have over a foot of snow in my area, and it has been below zero. The heel is 3 inches which I am not used to wearing and I did order 1/2 size up, and can wear a wool sock under the boot. They are beautiful boots, if they have your size and a good sale price, go for it.