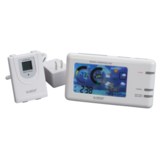 Closeouts. An attractive alternative to its less-colorful counterparts, La Crosse Technology's Color Forecast station gives you the temperature and humidity (inside and out), atomic time and weather forecast all at a glance.
Three-piece set
Indoor comfort indicator specifies "COMF," "WET" or "DRY" based on humidity level
Atomic time sets itself after you choose your U.S. time zone and automatically adjusts for Daylight Savings
Animated color graphs display the weather
Stores indoor/outdoor heat index and dew point (°F/°C) plus humidity with MIN/MAX records
Adjustable backlight
Color forecast station:
Dimensions: 4x6-½x2"
Weight: 7.6 oz.
Wireless outdoor sensor:
Dimensions: 4x3x1-½"
Weight: 2.6 oz.
6.0 volt adapter:
Dimensions: 2-¾x2x1-¾"
Weight: 5.4 oz.
Material: Composite
Made in China.
Average Rating based on
39
reviews
3.820512
0
5
Verified Buyer

Reviewed by Jersey Grandmom from New Jersey on Thursday, February 9, 2012

When it works it's great. A little adverse weather seems to disrupt the wifi connection.

Cons: Unreliable
Describe Yourself: Casual User
Primary use: Personal
Pros: Easy to Install, Easy to Use, Lots of Features

Verified Buyer

Reviewed by pkb from Miami, FL on Thursday, January 19, 2012

Not sure that it's 100% accurate, but it's close enough and looks cool.

Best Uses: Forecasting, Indoor, Outdoor
Describe Yourself: Casual User
Primary use: Personal
Pros: Easy to Use, Lots of Features

Verified Buyer

Reviewed by Far North from N. MN on Tuesday, October 25, 2011

It would be great if it also includes a weather band audio feature

Best Uses: Indoor, Outdoor
Describe Yourself: Casual User
Primary use: Personal
Pros: Easy to Install, Easy to Use, Good Value, Lots of Features

Verified Buyer

Reviewed by Bill the Bowler from Iowa City, Iowa on Friday, October 21, 2011

I can sit inside and know how cold it is outside and the overnight low as well. It reads the humidy outside or inside. This does everything that I expected and more.

Best Uses: Indoor, Outdoor
Describe Yourself: Casual User
Primary use: Personal
Pros: Easy to Install, Easy to Use, Good Value, Lots of Features, Reliable

Verified Buyer

Reviewed by amateur weather watcher from Troy, NY on Thursday, September 15, 2011

The weather station is just what I wanted. Easy to install and a great value

Best Uses: Forecasting, Indoor, Outdoor
Describe Yourself: Casual User
Primary use: Personal
Pros: Easy to Install, Easy to Use, Good Value

Verified Buyer

Reviewed by Water Doc. from Winter Haven, Florida on Wednesday, August 10, 2011

Very attracktive, I like the outdoor temp reading.

Best Uses: Indoor
Describe Yourself: Enthusiast
Primary use: Personal
Pros: Easy to Install, Easy to Use, Good Value, Like it so far, Lots of Features

Verified Buyer

Reviewed by AL from MICHIGAN on Saturday, July 16, 2011

THINGS THAT ARE NOT SO GREAT

Best Uses: Indoor
Cons: Difficult to Use, FORCAST WINDOW IS WRONG, Inaccurate, Unreliable
Describe Yourself: Casual User
Primary use: Personal
Pros: Lots of Features, VERY COLORFUL

Verified Buyer

Reviewed by malyph from Houston, Texas on Saturday, July 2, 2011

Good for home use

Best Uses: Forecasting
Describe Yourself: Casual User
Primary use: Personal
Pros: Easy, Easy to Use, Lots of Features, Worth the money

Verified Buyer

Reviewed by Far North from Northern Minnesota on Thursday, April 21, 2011

in Home

Best Uses: Forecasting, Indoor, Outdoor
Describe Yourself: Casual User
Primary use: Personal
Pros: Accurate, Easy to Install, Easy to Use, Good Value, Lots of Features, Waterproof

Verified Buyer

Reviewed by ducks from Miami Fl on Tuesday, March 29, 2011

check weather inside & outside all at same time

Best Uses: Forecasting, Indoor, Outdoor
Describe Yourself: Casual User
Primary use: Personal
Pros: Easy to Install, Easy to Use, Lots of Features, Reliable