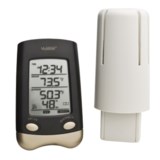 Closeouts. Know your weather data inside and out with this La Crosse Technology wireless weather station.
Average Rating based on
172
reviews
4.063953
0
5
Verified Buyer

Reviewed by Chris from Minnesota on Tuesday, April 14, 2015

I guess I'd have liked an indoor humidity reading but that's about the only issue I have with it. I mounted it in an old bird house that I removed the front and bottom from and it's stood up well to some recent heavy rain.

Verified Buyer

Reviewed by A Woman Rancher from South Dakota on Tuesday, March 31, 2015

I read other reviews about this product and was a tad hesitant to purchase but for the price I thought I would go ahead and get one. It was a good buy and very easy to set up. LaCrosse Technology is a good company and I am glad that I bought this. No problems so far and it has been over a couple of weeks since I received it.

Reviewed by Jibba from Arlington, VA on Tuesday, February 3, 2015

I've purchased hundreds of products from STP over the years, and I have to say that the La Crosse wireless weather stations have been the most unreliable. I purchased a previous version of this station--or at least a similar version--and it died after a few months. I replaced that one with this one, and it worked for about a month before the external gauge failed (tried new batteries, resetting, etc. all to no avail). I bought one for my brother as well, and he also complained that it failed quickly.

I can only conclude based on my experience that they're junk--so caveat emptor!

Verified Buyer

Reviewed by jdm from Ohio on Wednesday, January 21, 2015

This product performs well for what it is intended for. It worked well out of the box - setup was instant. Temperature indoor and outdoor seem to be accurate. Outdoor humidity seems to be accurate as well. It is not a fancy system, but it works well for what it does.

Verified Buyer

Reviewed by Mountain Momma from Portland ME on Tuesday, November 11, 2014

This is my second weather station and it works well consistently. The only reason I had to buy another was this one blew off my deck in a raging storm and completely was soaked. Be sure to keep it under the roof overhang.

Verified Buyer

Reviewed by Miro from PA from Pennsylvania on Monday, September 8, 2014

This station has the features I wanted, indoor/outdoor temperature and outdoors humidity. I don't really care about time, but it helps. When you insert batteries, make sure you wait 15 minutes to establish a good wireless connection. I find it great that when you switch to 24hr mode, the temperature is in Celsius. My concern was that the first product I received stopped measuring the outdoor temperatures after first night. I tried restarting/resetting both units but the same thing happened again. Eventually I was unable to connect the two units and get any outdoor measurements at all and I had to send it back as defective. Sierra did a great job replacing it and the new station works great! Three starts because I had to get a replacement, otherwise it would be five!

Verified Buyer

Reviewed by Zowie from Arizona on Friday, June 27, 2014

This system give me excellent information on the weather that I will encounter when I get ready to go out and play golf. Knowing the temperature and the humidity levels helps me decide what I need to wear to be comfortable while I golf.

Verified Buyer

Reviewed by Outdoor New Englander from Maine on Wednesday, June 25, 2014

I found this wireless weather station after searching several sites and local stores for a replacement to an older unit we had for many years. I wanted something a bit larger and with more style but this was the only unit I found that had these features. I wanted a unit that could show the time, outdoor temp, outdoor humidity and indoor temp. I didn't need a historical record or future predictions, just these basic simple functions. Sounds like a simple search, right? WRONG! This was the ONLY unit for those functions. Several other that had the size and style I preferred came close but they only showed Indoor humidity, not outdoor. In fact, there are many to choose from if you are interested to know what your relative humidity is inside your home but you can't find out the outdoor humidity. This little wonder is all I could find but it does work very well with a long range and is not affected by walls and obstacles. It serves its purpose and the price was much lower than the other larger and more complicated units that could not read outdoor humidity. I would like to have more choices for size and style but I am quite happy with the value and function of this weather station.

Verified Buyer

Reviewed by Orth of the North from Grayling, Mi on Monday, February 4, 2013

Our last LaCrosse product gave up the ghost after a short time and we were leary about buying this one. the price attracted us to try once again. So far so good.....we will see if it lasts.

Reviewed by Adventurous in Maryland from Maryland on Friday, February 1, 2013

This weather station is a great value. I didn't screw or nail it into anything; just placed the sensor on my front porch. The base sits on the shelf of my hutch in the kitchen, beside the T.V. where it's always visible. The temp is always right on. Liked it so much I purchased one for each of my adult children as Christmas gifts.