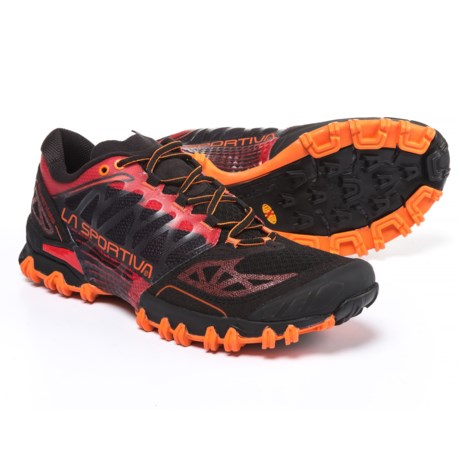 La Sportiva Bushido
Reviewed by Colorado Brian from Ouray, Colorado on Wednesday, February 15, 2017
Running Conditions: Colorado Jeep roads and unpaved back county roads. Some 6% to 8% inclines. Dry, icy, snowy and mud conditions. Not experience on single track yet.
Performance: Superior on dry or wet snowy roads. Dirt and mud definitely gets packed throughout the tread lugs causing this otherwise excellent trail shoe to feel heavy. Our mud conditions doesn't allow knocking off heavy mud easily. The Bushido performs excellent in what I can only describe as melting snow and ice conditions. This is the area where ice and snow feels soft. No slipping and the sole can even be "cleaned" of packed mud. For "hard" or unmalting ice I added the La Sportiva spikes on the bottom and the performance was superb. I am a slow runner at about a 12 to 13 minute mile pace, however, I never slipped running uphill or down on back country Jeep roads.
Notable: The tongue design effectively helps to keep out dirt and mud. It is pliable and is tied into the sole in a way that is comfortable but snug.
CAUTION: I recommend ordering La Sportiva one-half (American) shoe size larger.
Overall: A strong performer for what it is designed to do - superior lugs, anti-slip design with the engineering in the sole to add spikes for icy conditions.