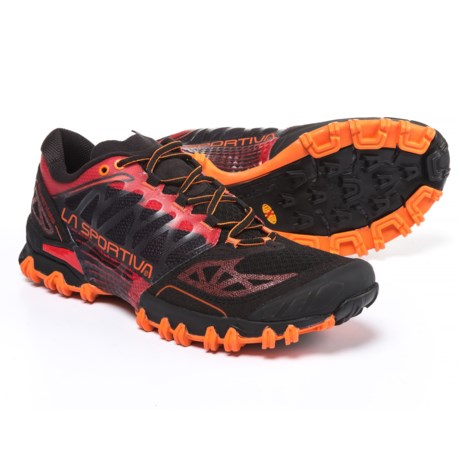 Like little rally cars for your feet
Reviewed by Downhill from colorado on Tuesday, February 21, 2017
! Important: Must try these shoes on before buying!!

La Sportiva's Euro sizing is weird. Even within their own shoe family, sizing can range quite a bit from model to model. Don't try to compare sizes to other brands.

In every other brand of running shoe ever worn, I've sized a men's 9.5 / women's 11. In the land of La Sportiva, my sizing looks like this:

Bushido, mens: 10 (43)
Bushido, womens: 10.5 (42.5)
Mutant, mens: 10.5 (43)
Old crosslites, mens: 9.5 (42.5)

Despite the size differences, all fit perfectly. They're all great shoes. The Bushidos are light, super sticky and have a nice low heel-toe drop. The rockplate regularly saves my soles, but can be a bit harsh on gentler trails. Much stiffer and more durable than my old Crosslite loves, but pretty close otherwise. You might miss the cushion on well groomed trails, but they're no worse than any other minimalist (ish) shoe I've tried.

TL; DR: they're like little rally cars for your feet :)

For comparison, the Mutants feel like clogs. More like feet-SUVs than rally cars.