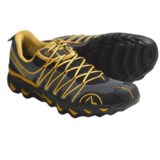 Closeouts. Built on an exclusive MorphoDynamic platform, La Sportiva's Quantum trail running shoes help you achieve maximum performance in ultimate comfort. Designed for trail running over moderate to technical terrain, these are also fitted with a FriXion® AT sticky rubber outsole for serious grip.
Average Rating based on
42
reviews
3.809523
0
5
Reviewed by Wolfpa from AZ on Friday, September 18, 2015

The general consensus on this shoe is accurate: Well built, good traction, stylish, built small (in other words - sized wrong). All true. If you're looking for the short story, you can stop reading this review now. For more of the story, keep reading. Regarding the sizing: I generally wear size 10 shoes. I have a low volume foot (meaning - narrow fore foot, narrow heal and low arch/low in-step). I like snug shoes. So it can be hard to find a shoe with a "perfect" fit. This shoe is close – bit not in my normal size. After reading the reviews, I ordered a 43.5/10.5. The shoe definitely fits snug. I can lace it and tie it with the stock shoe laces, but just barely (and without using the top islet holes. which, by the way, are the only traditional islet holes on the shoe). Note: I have a distinctly LOW-VOLUME foot – and this shoe is very snug. The attribute that I consider to be a legit problem is the length. My toes easily touch the end of the shoe. I like the fit and feel of the shoe with the exception of the length. I'm guessing I would have been better off with a 44 or 44.5 (I can only guess about the size/volume progression). I had my wife try the shoe. She generally wears a 8.5 men's (fairly wide fore foot for a woman, as well as a high arch & in-step). She commented on it being snug to get her foot in, but (when her foot was inside) she felt it was just a tad long. Remember: this shoe is marked as being 2 sizes above what she normally wears in a men's shoe. She should be swimming in a 10.5 men's. Maybe I got a pair that is exceptionally short – OR – maybe this model tends to run a little small. ? ?
In terms of construction (exclusive of size), this shoe seems very well built - nice padding, solid foot bed, good cushioning. The only thing I don't care for is the lacing system. The lacing system uses relatively small gauge, fabric lace-loops. I question how long they will last, especially if used in the intended terrain/conditions. The fabric lace loops can also make it a bit difficult to tighten the laces – which may not be an issue because the shoe is inherently quite snug on the foot. But you're going to want to pull the laces tight in order to lock your heal and maintain any hope of keeping your toes from butting solidly against the end of the shoe.

Verified Buyer

Reviewed by sam from chicago on Friday, June 5, 2015

buy 1 size bigger to fit

Verified Buyer

Reviewed by runner for 35 years from Los Angeles on Thursday, April 30, 2015

I knew these shoes run small - but it is so out of sizing it should not be sold on line / these shoes not sized according to any charts / runs not one but two sizes small or even more. I need size 10 maybe 10.5 - ordered 44.5 (which should be 11) and it was still way to small - how can I make sense out of that?!

Reviewed by SB from Spartanburg on Monday, April 13, 2015

I have been wearing these around town for a while to build my trust level in them as lightweight backpacking shoes and have really come to love them for that purpose, so I took them out for the first time this weekend and they were great under a load. 22 miles up and down 4 river gorges in the Jocassee Gorges area of NC/SC with an overnight load were no match. Great grip, great mud shedding, breath well (which is great since they're not WP). I used them with socks and ordered 1/2 size small. They look excellent to boot. I get tons of compliments!

Reviewed by Jerry Norton from Saint George, Utah on Wednesday, January 28, 2015

These look to be great shoes, but I have to return them because they are not large enough. I normally wear a twelve or thirteen. The largest size available is 47½ and it is not wide enough. Your feet fit down into the sole to a small extent and that hard rubber is crimping the outside of my foot.

Reviewed by Tribulation Exodus from BABYLON, CA on Sunday, September 14, 2014

I was looking for a shoe to correct a situation going on with my left foot. I was intrigued by how the laces connects to straps that traverse the whole shoe so that when the laces tighten, the whole shoe tightens to conform to your foot. This shoe does just that its why its so unique.

I wear a size 13 medium heal and am 235 lbs. Because of the way the shoes are laced, I strongly recommend loosening the laces completely all the way down before you attempt to put your foot in this shoe. Although they are tight even for narrow feet they can accommodate a wider D width foot but not E or EE.

When put your foot in and tighten up carefully because the wrap around sole really hugs your feat along with the stretch material over the top of the shoe. What you will find is the most comfortable technical running shoe, especially in down hill gravel terrain. The shoe not only conforms to your foot better than any shoe I have put on, but it also conforms to the terrain better than any trail shoe.

If you wear out the outsides of shoes rather quickly, I do not recommend these soft sole shoes, they will not last.

If you are looking for a shoe to walk around in as a general everyday shoe, I do not recommend these shoes.

But if you are looking for the best trail running shoe, and you have a heal that is on the small side of D-width shoe or narrower, I wholeheartedly highly recommend this shoe for that specific purpose. This shoe is very well built and if used only for exercise it will last.

I recommend a half to whole size larger. When you shop for shoes where sometimes you can run into a brand thats a bit big than our normal size, then go up a half size with this one, but if you can't do that from one brand to the next, then go up a whole size with this one. But no matter what the length size, this shoe is narrow at first and going up a size will not change the width.

Verified Buyer

Reviewed by dave from Alaska on Friday, July 25, 2014

2nd pair! I have a long narrow foot, and yes order a 1/2 size larger than you normally would.

Verified Buyer

Reviewed by sylvia777 from Salt Lake City on Wednesday, May 14, 2014

These shoes were beautiful and well made, but were so small. My husband wears a 8.5 and he couldn't even put them on. I wear a women's 8 and they were too small for me. Weird!

Verified Buyer

Reviewed by Tim...out in the dirt. from Pennsyvania on Friday, May 9, 2014

Really good grip on the rocks...still ok in the mud. Good looking and cushy.

Reviewed by Ban the Mountain Man from Los Angeles on Thursday, April 10, 2014

Ordered a full size bigger like the descriptions suggested, but it was too long. Returned it and got another pair just half a size bigger and it was perfect. Took them out on a 8.5 miles test run on pavement/dirt and they felt great.