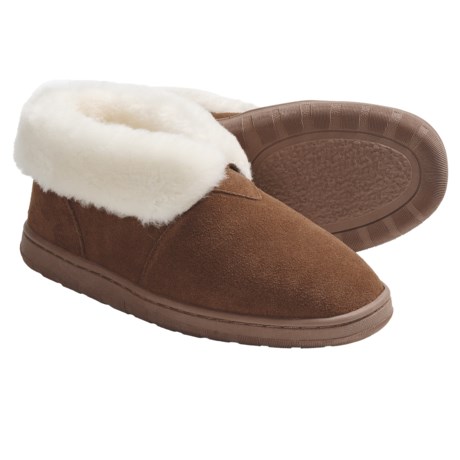 I ordered a half size up (size 7) as per the description. It is okay, but I could have ordered my usual size - 6.5 - and they would have been okay too. I think the issue of them being "too big" may have more to do with the boot itself rather than the length. The boot is very roomy. I put a sturdy shoe insert in them in order to keep my foot from pulling out of them when I walked. I do have a narrow heel but still, these seem to be made for a chunkier foot than mine. That said, with the insert they are comfortable for me and my foot stays in the slippers. And yes, they are warm and cozy.

i am not a staffer...but a recent customer, i think they run large! i ordered my regular size (10) and it was huge on me. i went down a size and i sent them back and ordered another pair in nine's. they are still a little roomy on me. but i am not sure an 8 would work! Sierra Trading Post is quick and easy with returns! they will give you a credit as soon as you tell them that you are returning them. you don't have to wait til the returned item is in their possession to order a new pair. the only company that i know of that does this! they have excellent customer service and do everything they can to make your life easier! i love Sierra Trading Post! they really do care if you are happy with their products!

What a GREAT idea! But if they don't, they definitely run BIG! I even wondered if they shipped me Men's size, since they would look identical, by mistake! All I can say is they have a generous exchange/return policy so by all means get them! I love, LOVE them!