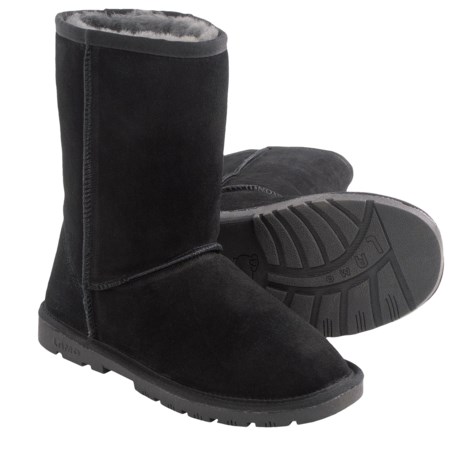 I wear a 71/2 shoe and ordered the sz 8 in the LAMOs as recommended. i like to wear them without socks and that way they seem a little roomy. When I do wear socks, the fit is better, I guess I'd say good. Ideally they'd make half sizes. If you're a whole size, then go with your normal size, they'll be fine, but if you're a half size then I think it's better to go up, especially if wearing socks. By the way, I love these boots, I wear them all the time.

We bought the size 7 and she can wear a youth 4 or 4.5 in most things. She can wear a 6 women's too. Her last pair of these we had to exchange and get 2 sizes larger. These 7s give her a thumb width (she's growing) I've had these on and wear a 7.5. I would buy an 8 or 8.5 if they were for me. I hope this helps.

I would size up, my daughter is size 4 and I had to get size 5 to fit comfortably without socks. The shearling inside is quite thick.

According to our fit models this item is running true to size.