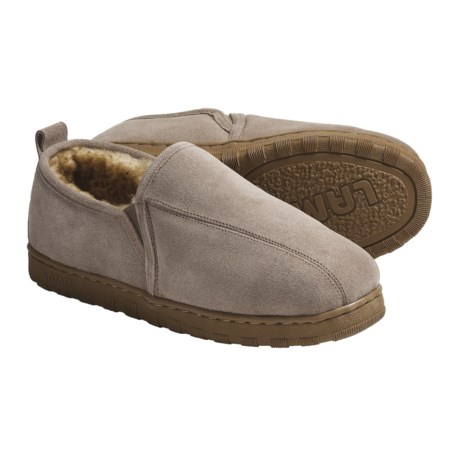 It's actual shearling.

They are sheepskin lined, not man made material.

Real shearling fleece

Thanks for the quick and helpful anwsers

The lining is genuine sheepskin.

These are real wool/shearling lined.

These are the real meal deal :) plus some. Bought these for hubby at Christmas. We raise sheep, Registered Suffolks, for over 40 years now. So IF I can find wool products, I am going to try it out, when reasonable in pricing, plus they had the larger sizes offered.... Merino sheep are thinner skinned but dense and fine in fiber...and so I checked out the slippers carefully to see how they were put together. They are made of double layers of leather!.. One, the suede is made from a thicker skinned animal.... beef most likely, and the merino wool is on a hide as well glued and sewn at the top with the binding on edges you can see in pic. I am kick'in myself I did not put a pair under the tree for me, too.