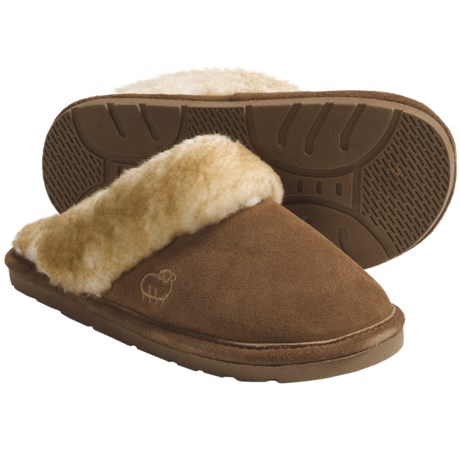 these are warm with the shearling vs fleece, but no real arch support

Nope. The only arch support you'll get is from where the sheepskin doesn't pack down as much from wear. These do pack out pretty fast - I'm a sz 8 & got the large and they barely stay on my feet.

I have been wearing mine all afternoon and just checked for arch support. I never paid attention to this but they do. My feet have molded into the slippers and the arch is defined. Hope this helps.

I would not call them something with arch support. They are warm and comfy but don't think any of these types of slippers have an arch support.

No. There is no arch support whatsoever. These are scuffs - comfy and cosy but quite unstructured. Not really suitable for wearing all day long.

They don't have arch support. They're really warm and comfy so I wear them while I'm sitting or for short periods around the house. Great for warming up cold feet.

The only arch support comes from the fleece. The fleece kind of molds to your foot over time. I have high arches and these are fine for me, but I don't wear them all day.

This slipper has a flat sole, but, is loaded with sheepskin fleece so the fleece should give you some arch support. They really are very nice.

These are warm, cozy, fuzzy slippers with a great sole, but they do not offer any arch support whatsoever. But I still love them!