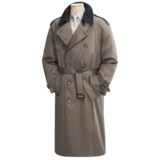 Closeouts. Every man's wardrobe needs a classic, double-breasted trench coat. Why not start with this excellent model from Ralph Lauren.
Average Rating based on
245
reviews
4.448979
0
5
Verified Buyer

Reviewed by Leggs from Suitland MD on Tuesday, October 13, 2015

The Ralph Lauren Double-Breasted Trench Coat (For Men) has been purchased as a gift for my son. He travels on the public transportation sysem and stated that the trench coat is exactly what he needed.

Verified Buyer

Reviewed by Leggs from Suitland MD on Tuesday, October 13, 2015

As a plus size woman, I chose to purchase the Ralph Lauren Double-Breasted Trench Coat (For Men) for myself. Women's plus size trench coats didn't make feel comfortable in my waist. I'm very pleased and happy that I chose to select the smallest men's size double breasted coast for my comfort, style, and quality I'd recommend the purchase to other plus size wormn,.

Verified Buyer

Reviewed by James from England on Thursday, August 20, 2015

My old trenchcoat was due to be retired and so when this came up on sale I was interested. Fortunately, I read the reviews and heeded the advice to get one size smaller. I wear a 44R jacket, but I ordered this in a 42R. When it came, I checked and it fits perfectly, even with a jacket or suit coat on underneath. As you would expect from Ralph Lauren (even from his "less than top brand") fabric and finish are perfect. It's even "water repellent".

Well done STP for another fabulous deal!

Verified Buyer

Reviewed by Ubi est meum from Illinois on Monday, July 20, 2015

The coat is well made, and the 42 R was true to size ( I planned to wear it over suits in Chicago's colder weather) but the color is odd. It appears in the photos to be a shade of brown but is closer to grey, and it has a black collar. So, if you don't care what color your trench coat is, then wait for a good price and get yourself a deal.
My main complaint is with Sierra's return policy. When the picture and the product do not match, why must I argue for a complete refund?

Verified Buyer

Reviewed by Callum from Adelaide, Australia on Thursday, April 23, 2015

It's got everything a trench coat needs; removable lining, gun flap, storm coat, adjustable sleeves, belt, raglan sleeves, genuine epaulettes, and plenty of room to fit over a suit.

Verified Buyer

Reviewed by Ali from Aaa on Friday, March 20, 2015

This trench coat looks great and was the perfect size

Verified Buyer

Reviewed by PhilipD from Austin on Friday, March 20, 2015

The reviews for the coat are very good, but man, it is huge. I saw a commenter's advice to order a size down. I'm always a 46L so I ordered a 44L. Way too big. I'll order again but a 42L, if STP still has one. Also, with the lining in, the coat is pretty heavy.

Verified Buyer

Reviewed by PrudentBuyer from Pennsylvania on Tuesday, February 24, 2015

Quality, good looking double breasted raincoats are hard to find, particularly the full length variety. I was impressed with its looks as soon as I put it on. The design is classic in every good meaning of the word. Other reviewers have mentioned it tends to run large and this is true. I normally would take a 40 Regular so I ordered the 38 Regular. It is perfect as there is enough room for a suit coat underneath, but not too large to wear just with a dress shirt. The liner is not as heavy as some, but if it gets that cold, better to switch to an overcoat. The liner zips out. There is no pocket slit to enable access to a pants pocket, but it is what it is. Not a deal breaker by any means.

Sierra Trading shipped it promptly and was packed very professionally. A good place to do business.

Looking for a smart looking coat that will get noticed? Then this is the item for you.

Verified Buyer

Reviewed by crashd from Carlsbad CA on Sunday, February 22, 2015

I needed a new lined trench coat for a work trip to a cold location. Being sort of out of season when I was looking, my choices were limited. But Sierra Trading had them, in stock, and shipped it to me in 2 days. The coat was perfect in its size and features and is great for use both over dress clothes and as an outdoor jacket. The removable liner and collar makes this versatile for use in the rain in the hotter months as well. It has many nice features, such as the multiple button front closure options (a little or a lot) and the belt that is captured in the belt loop (nearest the belt buckle) with a button close flap to keep it from falling out. If I had a couple complaints, they are that the belt is not captured on both sides and walking while wearing it with the belt not fastened or tied tends to make it work lose from the other belt loop and drag on the ground, and that the outside pockets have no path through to the inside like my old London Fog did (so in order to get to items in your pants pockets, you must lift the jacket up or unbutton the front). These are minor. The jacket is great, it serves its purpose well and is well built, and is a great deal.

Reviewed by Captain Timur from State of Qatar on Thursday, January 29, 2015

I have recently received my Lauren, trench coat. It is black and it is beautiful. fits me so well as if made to order .Only a trench man knows the value and importance of a trench coat, rest are for fashion wear. I have lived in a trench during my military days and I understand the worth of a trench coat. Ralph Lauren's Lauren is an ideal , practical wear for those who are exposed to open areas with inclement cold and wet weather . Lauren is an ideal cover, a decent partner yet majestic. I want to thank Ralph Lauren for maintaining the original design and thanks for making it possible for us boys to reach out and get them. Thanks to Sierra Trading for making it possible for those sitting in other parts of the world to access you and acquire such a precious item.