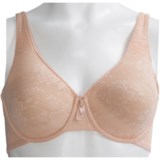 Closeouts. Excellent support with almost no padding, Le Mystere's Subtle Glamour Bra is perfect for the full-figured woman. Beautifully designed in a stretchy floral "flat" lace with sheer lining, it conforms to your shape with elasticized top cups. Features glamorous faux gem and gold-tone hardware.
Average Rating based on
8
reviews
4.375000
0
5
Verified Buyer

Reviewed by Bargain Gal from CT on Tuesday, June 10, 2014

As per usual, the cup size is a wee bit small for a "C" with Le Mystere, and luckily this fits me perfectly. Supportive stretchy cups and very comfy. I now have 3 of these bras (one in the nude color) and they all fit the same. This is an unlined bra: Hallelulia! It's hard to find a bra that isn't padded so much that one looks one or two sizes larger. If that's what you want, this is not for you.

Verified Buyer

Reviewed by Bargain Gal from CT on Thursday, May 8, 2014

I have both colors & might buy more. I prefer bras without padding & this is a winner. Just stretch with lift & underwire. I'm barely 34C & 34C fits beautifully. Comfy

Verified Buyer

Reviewed by Helen from San Francisco on Friday, April 25, 2014

I have two of these. The first, I have owned for several years and it is still in good condition. There is no padding in the cup which I like because I am a 38D and need no extra bulk but the cups still provide good coverage. It also takes the shape of your natural breast rather than providing a foam shape that I find often leaves gaps and does not fit as well. This is a full coverage bra with great support for a larger sized chest. It is also super comfortable. Le Mystere makes a great bra that lasts and does the job and lifting and supporting.

Reviewed by Colorado Girl from Oregon on Tuesday, March 11, 2014

I give this bra four stars for being extremely well made and supportive but I'm docking one star for difficulties finding my correct size. Thus far I have ordered two sizes and am contemplating a third. (Five Stars for Sierra's free shipping on exchanges!) My regular size was WAY too small. Going up one cup size, the band was still tight and uncomfortable. I can't decide if this is due to the design of the bra and it will stretch, or if my true fit is plus a cup size AND a band size. So I recommend this bra with reservations. If you already know your size in Le Mystere, are easy to fit, or don't mind that you may have to experiment, it is definitely worth the discounted price.

Reviewed by Bargain Gal from CT on Thursday, January 2, 2014

Stretchy, light weight (and with an underwire!) and without padding, there is still 'lift power' here. 34C fit me exactly, so I'm very happy.

Reviewed by Polly Prissypants from Jacksonville, FL on Thursday, November 28, 2013

The band was tight on this bra and measured 3 inches smaller than any of my other 34D bra bands. The cups, on the other hand, were fairly comortable. I think the cups would be too large if I went up a band size and too small down a cup size, so I'm regretfully returning it. Fit aside, this is a nice bra. If you're certain of your Le Mystere bra size, I would recomment it.

Reviewed by Mariah from Seattle on Saturday, November 23, 2013

Good fitting bras are hard to find so I was happy to find this one at such a good price. There is no padding but a mesh fabric lining underneath the stretchy lace fabric.

Reviewed by online shopper from Upper midwest on Monday, November 4, 2013

This is a great bra. It is lightweight and pretty. I like these kind of straps. It does not have "almost no padding" as the description says, but no padding at all. There are two layers of material, but no padding. I find that the band of le mystere bras fits if you go up a cup size. Sounds counterintuitive, but it works for me.