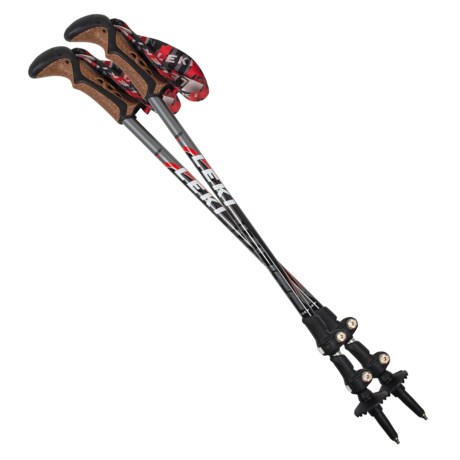 Great quality, amazing price
Verified Buyer
Reviewed by Brett from MO from Dallas on Monday, February 22, 2016
Let me start by saying I haven't actually taking these out for serious usage yet.

However, I do have some initial impressions to share.

First of all, these are very highly rated trekking poles. You can read a good review of them here http://www.outdoorgearlab.com/Trekking-Poles-Reviews/Leki-Corklite

One thing I was a bit concerned about was that some reviews have suggested that these are good for people with smallish hands, and I have larger than average hands. At the same time, the price these were being offered at was impossible to pass up.

As for the grips - I guess I can understand why someone with smaller hands would appreciate these..the grips don't feel all that substantial in your hands if you have larger than average hands. However, I learned something recently. To properly use trekking poles, you should not really be gripping them with a firm grip, but rather you should be relying more on the wrist straps which end up bearing most of the load...your hands should be just lightly gripping the handles..just enough to guide the poles where they need to go. If you're looking for something that feels like a "hiking stick" you may have picked up in the woods before...then you're missing the point on why the wrist straps exist. All of that being said, I do wish the grips were slightly more substantial...you know, in case I need to grab these things like a club a beat a raccoon or some other creature that might want to attack me. One more thing about the grips. The top of these grips are the perfect design for going downhill when you hold it on the top more like a cane. It feels EXTREMELY comfortable and natural holding it that way. I held some other trekking poles recently that had a grip that felt nice and hefty when held in the regular position...but the tops were nowhere near as comfortable as these. Also, the straps on these are very nice and I can't imagine them ever rubbing blisters or anything. They are soft...I just hope they're durable - i'm assuming they are!

As for the trekking poles overall...they feel extremely sturdy and solidly built, while also being light.

One thing to note. Apparently some trekking poles extend to 140cm...whereas these only extend to 135cm. I'm 5'11" and that's plenty of length for me...the sweet spot for me is more like 125cm. However - there is a tent i've been considering purchasing recently that is compatible with trekking poles as long as they are 140cm long...so, that's a bummer. But most of the other trekking pole compatible tents i've looked at...the length of these would be perfectly fine.

Oh and they also lock into place nice and firmly. One last thing...not all trekking poles have numbers on them for the measurements...some just have hash marks. It's nice to have the numbers so you can remember what length works best for you.
Most helpful positive reviews
Most helpful negative reviews
Similar items and more information in the following areas: