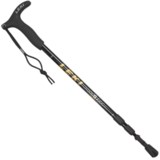 Discontinued or prior year model. Take to the trails with the added stability of the LEKI Wanderfreund trekking pole, featuring ergonomic AergoMED cane grip and secure Super Lock System.
Average Rating based on
48
reviews
4.541666
0
5
Verified Buyer

Reviewed by AnnaLaurie from Arizona on Monday, February 2, 2015

This will go to a friend who has different requirements than do I for a walking stick. I anticipate the mechanics will be good -- easy to use like my own Leki walking poles. Surprisingly, the paint job on this particular stick wasn't top flight -- as if the shop had dust flying around on the day the 'cane' was produced. The handle is quite comfortable and is improve able primarily by making it of cork or something that won't 'sweat'. I like that this style comes with a rubber tip to soften the touch.

Reviewed by COOPER from Michigan on Friday, January 16, 2015

I have tried most brand name medical looking type canes over the years myself now being 65. I became disabled at the age of 30 so believe me when I say I have tried most all types of canes and I have always disliked the medical looking ones. I even tried a couple hand wooden carved ones but still those were to heavy. While at the Pain Clinic I go to I noticed a gentlemen with what appeared to be a totally different looking cane. I asked him about it and things such as where did he get it - how does he like it - than he said try it you will like it - I gave it my test and I wanted one then. But he couldn't remember the web site he purchased it at but I remembered the brand so I looked it up on the internet. Wow so expensive even at Amazon.com. The Leki website no longer sells them and while I checked other sites I found out there are if I recall 4-5 models to chose from depending on the features and price one would want to pay. I found the most reasonable price was at SIERRA Trading post by far. I didn't need the most expensive one with the built in shock feature at $74 - $84. I just needed a decent non-looking medical cane that was lite - did its job yet had that kind of sporting look to it. Well the fantastic price Sierra was selling this cane for how could anyone go wrong. I received it in a timely manner - it was over the Holidays so I expected it to be the 5-6 working days before I received it and I was right. I ordered mine over the phone and a Female Employee & was so kind and when she added by the way as a first time buyer you receive an extra discount. What a deal for a cane that I love to use - take the rubber tip off and the tip is made to dig into the ice to keep it from slipping. I also love how adjustable it is and the quality is impressive. The only reason I gave the cane a 4 is the handle is a bit small compared to the one the gentleman had that I tried out. Other than this I have been using it every where. And SIERRA Trading post are super nice to do business with. Thank You
P.S. Sorry for such a long review but that's just me.

Verified Buyer

Reviewed by roadtripper from north west usa on Monday, December 29, 2014

dad loves it. basic use around the house and garage. light. strong. adjustable height. better than any old person cane I could have got him.

Verified Buyer

Reviewed by HeyBob from Colorado on Wednesday, October 1, 2014

The LEKI cane grip trekking pole is excellent. It is light weight, but sturdy. Just had knee replacement surgery and I am using it at times when the walker is not suitable.

Verified Buyer

Reviewed by Raven from Pennsylvania on Friday, September 5, 2014

Instead of crutches or a cane, my son used this trekking pole to get around after hip surgery. It is light, sturdy and was a great deal. I'd get it again for any hiking situation.

Verified Buyer

Reviewed by mapfam from MI on Thursday, July 31, 2014

I purchased this for my Father-in-Law who is 82 and beginning to have difficulty walking any distance. The cane gives him much better balance and with its height adjustability he does not stoop over as he did without it. Its collapsed size fits in his carry on.

Verified Buyer

Reviewed by Charlie from Iowa on Wednesday, July 2, 2014

Nicely adjustable and comfortable in the hand. Looks good too.

Verified Buyer

Reviewed by IndigoB from Illinois on Friday, June 27, 2014

I've only had my Wanderfreund for a couple of weeks of occasional use as a cane, but I can attest to it's attractiveness, good design, and how easy it is to adjust the height. If anything changes I'll post another review

Verified Buyer

Reviewed by Dan's Brother from NH on Thursday, June 26, 2014

My mother was complaining her knee was giving out randomly and was using an old wooden cane she said worked but was uncomfortable. So I picked this up for her 2 weeks ago and she has been using it daily. Spoke to her about it today and she LOVES it!

Verified Buyer

Reviewed by Safsaf from Seattle on Thursday, June 5, 2014

I love it. It locks tightly at the required length (my much-older one was starting to slip). The rubber tip comes easily on and off (but does not *fall* off), so that I do not ruin people's hardwood floors. I never use it when out of doors; this makes purchase on the pavement very secure - and also makes me look as though I might be armed (which I am).

I can once more walk confidently!