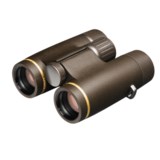 Closeouts. Leupold Golden Ring binoculars offer absolute waterproof integrity, with multicoated four-lens system for enhanced brightness, clarity and contrast. Flawless performance, in a shirt pocket portable, made in the USA. Generous eye relief for eyeglass wearers; fold-down rubber cups. One-time focus on each eye covers most viewing distances.
Tough, lightweight magnesium construction
Strong single hinge fold
Rubber armored housing
Fogproof
Rain guard
Includes case and neck strap
Magnification: 8x
Objective lens diameter: 32mm
Field of view (@100 yds): 32.1'
Eye relief: 17mm
Exit pupil: 4mm
Dimensions: Approx. 6x4"
Weight: 25.4 oz.
Made in USA.
Average Rating based on
6
reviews
4.500000
0
5
Reviewed by PolRoger from Memphis, TN on Friday, June 5, 2009

I had been watching these Binos here since the new Gold Ring HD version came out and replaced this model. Leupold lowered the price on the new version so now with the lower clearance price and the use of a stackable coupon code I decided to spring for this excellent quality/performing compact 8x32. I'm very sastisfied with them and expect they will get plenty of use. I actually consider it to be a 4-1/2 star product that can compete with the likes of Zeiss/Leica/Swarovski

Best Uses: Bird Watching, Sporting Events/Concerts, Wildlife Viewing
Cons: Heavy
Describe Yourself: Casual/ Recreational
Pros: Close Focus, Compact, Quality Lenses, Strong Construction, Works Well With Glasses

Verified Buyer

Reviewed by Blue Oak from Mesa, AZ on Monday, May 25, 2009

I use these for birdwatching and other nature observation. I wanted something that could focus closer than my previous pair, had a wider angle of view, worked with glasses, and were easier to focus. Based on the specs, these met my needs and very few other binoculars did. They are heavier than I would have preferred, but with a harness. the extra weight is not that important.

I've been using them for a few weeks now and I'm very pleased. The image is crisp and bright. The close focus, for me, exceeds the specs, going to less than four feet. On a cooperative spiny lizard, I was actually able to see the keel and spiny projection on the scales.

The focus is smooth, quick, and easy. The range from about 20 feet to infinity is covered in a very small angle of turn. The rest of the range is used for closer viewing.

There is plenty of eye relief for viewing with glasses. I even find that raising the eye cups to the first (of two raised) positions works for best for me with glasses.

The rubber armor has a nice feel. However, I would prefer to have more space to wrap my hand around each barrel for comfortable gripping. The thickness of the barrel with its armor and the long hinge between the barrels limits my grip.

These are first-rate binoculars at a great price. Given their optical quality and the Leupold lifetime warranty, I expect to have them for the duration.

Best Uses: Bird Watching, Hunting, Wildlife Viewing
Cons: Awkward grip, Heavy
Describe Yourself: Casual/ Recreational
Pros: Close Focus, Easy to focus, Lifetime Warranty, Quality Lenses, Strong Construction, Waterproof, Wide Field, Works Well With Glasses

Verified Buyer

Reviewed by Arcdome from Seattle, WA on Tuesday, April 21, 2009

Not as lightweight as some but the heft adds stability for me. Brightness, clarity, and lack of color distortion is excellent. Lens cap is too easy to dislodge but in no way detracts from the performance. Good value for a quality binocular.

Best Uses: Bird Watching, Hunting, Wildlife Viewing
Describe Yourself: Casual/ Recreational
Pros: Quality Lenses, Strong Construction

Verified Buyer

Reviewed by JR from Salt Lake City, UT on Thursday, April 16, 2009

The prior two reviews were right on the money and very helpful. The eye relief allows a full field of view for those who wear glasses, which includes myself. This is often not the case in an 8x32 configuration. The lenses and the binoculars are quality throughout. Yes, they are a little bit heavy, but you can't avoid that and still have the quality. Light gathering at dusk and dawn will be a little lacking because of the relatively small 32mm objective lenses, but the trade-off is less weight than with comparable quality optics and a larger objective lense. These are quality optics that have a good feel to them with excellent eye relief and reasonable weight. I couldn't be more pleased.

Best Uses: Hunting, Wildlife Viewing
Describe Yourself: Avid Adventurer
Pros: Compact, Quality Lenses, Strong Construction, Works Well With Glasses

Verified Buyer

Reviewed by Don from Lynchburg, VA on Saturday, March 14, 2009

Very good quality optics, perhaps somewhat heavy for the magnification. I think the extending eyecups are a neat feature, but really I'd prefer not to have to extend them in order to use the binocs (I don't wear glasses).

Best Uses: Bird Watching, Wildlife Viewing
Cons: Heavy
Describe Yourself: Avid Adventurer
Pros: Close Focus, Quality Lenses, Strong Construction, Works Well With Glasses

Verified Buyer

Reviewed by Moman from Huntington, NY on Saturday, January 24, 2009

Top notch quality construction and optics. Although it does not say so in the description, these are phase corrected, and this is important on roof prism binoculars. Also, the photo shown is not what these look like. (They look like the photo of the 10x32 Golden Ring on the Sierra site). Sierra will hopefully have corrected this.Sierra's regular price for these is at [$]is too high, considering the model has been discontinued (replaced with an HD model). Wait until they go on sale. I haven't seen the newer HD (Stands for High Definition) model, but I would doubt they are much better then these--these are so good.Supposedly the HDs have reduced what is called purple fringing--i.e. if you look at a dark object against a white background, you will see a faint purple outline around the object (not everyone is sensitive to this. I am). However these non HD binoculars have among the lowest degree of purple fringing I have seen, even compared to binoculars costing over twice as much. So, to summarize. In daylight these are excellent binoculars which, I believe, will satisfy the most avid birder. In low light the 8x42 model will give a brighter image at the cost of increased weight and size. [$]is too high. A selling price between $450 and $500 would be more realistic. You can find the latest HD model for about $680 elsewhere if you look around.

Best Uses: Bird Watching, Bright Conditions
Describe Yourself: Casual/ Recreational
Pros: Comfortable Eyepiece, Quality Lenses, Strong Construction