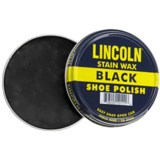 Closeouts. Treat your shoes to the quick, bright and water-resistant shine of Lincoln Shoe Polish Company's premium stain wax shoe polish.
Average Rating based on
21
reviews
4.142857
0
5
Verified Buyer

Reviewed by Glet from United States on Thursday, March 19, 2015

This item arrived completely dried out. There's no way I can use this to polish shoes.I will be returning it--just haven't been able to get to the post office yet. This is the first time I've been disappointed in a Sierra Trading Post order (my other item was of poor quality, too).

Verified Buyer

Reviewed by lewmerk from Northern Virginia on Monday, March 16, 2015

I've used Lincoln polish for years and have nothing but good to say about it.

Reviewed by GB Gal from wisconsin on Monday, March 17, 2014

Black is black. Brown is brown. And blue is blue. Glad to find blue shoe polish

Reviewed by MH from NJ on Thursday, March 6, 2014

very disappointed in this product. The wax is dry and brittle, it should not have been sold. That was money down the drain.

Reviewed by OCULUS from Rensselaer, NY on Sunday, January 5, 2014

Neutral (clear) waxes are hard to find. Thx STP.

Reviewed by Mark from Virginia on Sunday, December 29, 2013

Don't take my word for it - ask a professional, like a shoe shine person or someone who repairs shoes. It takes only a little polish. For a "spit shine" clean your shoe with a brush, put a little polish on with a small brush (a tooth brush will do) shine to a dull finish with a brush and buff with a cloth. Repeat, but this time, after applying polish, dip your hand in warm water a flick a little warm water (not spit!) on the shoes. Brush and shine. I think this is the best brand available.

Reviewed by Art from Carlisle, PA on Saturday, December 28, 2013

Lincoln is good polish and these tins are a bargain. The polish is fresh, not dried out nor cracked. Good colors. I've used it for years on my best leather shoes and boots. Among the best.

Reviewed by Marduk from The Frozen North on Thursday, December 26, 2013

In three colors. Been using Lincoln since I was in the army. Far superior to Kiwi. For some reason it is impossible to find around here; always has been. So I pounced on these.

Reviewed by Gen from Eagle, ID on Wednesday, July 10, 2013

This is what the shoe shine guys use & your shoes are very shiny - love it! I wear Santia/Dansko shoes for work so now I will have clean & shiny shoes for a fraction of the cost ot have them shined up.

Verified Buyer

Reviewed by FH Rich from Forest Hills, NY on Thursday, January 24, 2013

Excellent, durable easy to use polish.
Cold temperatures cause fine cracks in the polish, so an ashy finish develops at flex points.
Still excellent and highly recommended.