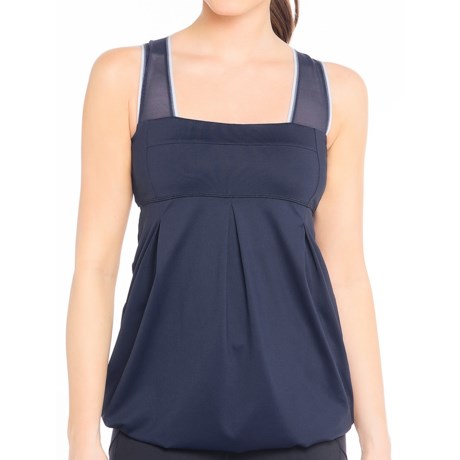 Cooling in hot workouts
Verified Buyer
Reviewed by The Barre Lady from California on Friday, February 5, 2016
Overall, I'm very happy with the Audierne top. I'm a 34a and the XS fits very well (though I could see the shortness of the support shelf being an issue for women with larger cup sizes). The broad mesh straps were the feature I was most dubious about, when ordering. In fact, though, they are actually very comfortable and they lay flat between my shoulder blades, where the twist is, so there is no shifting and rubbing like I experience with some other tops that have twisted or back-crossed straps. Also this top is the BEST for wicking sweat, given features of the mesh straps and the movement of the loose, lower portion of the top, which picks up perspiration as it moves. It cools you without trapping the moisture on your skin under a wet cloth layer. I actually don't even mind the visual effect of the poofiness of the top that some customers have complained of...it moves and shifts around as you do, so it's not like you've turned into an aesthetic marshmallow. (And if I need a transitional maternity top, I figure this might get me through a couple of trimesters.) If you spend enough time in gyms and studios, you will see acres of tight spandex. Why not do something different?

A little tip that I didn't know, when I bought this: there's actually a drawstring in the bottom hem. In the bottom edge of the seam on the right side, there's a small slit, and in that slit you'll find a pull cord, which you can knot to tighten the hem.

The only thing I'll knock this top on, is that if you spend any time in inverted positions (headstands, down-dog), the bottom will ride up and expose your torso a bit (only to just above the waist, not all the way to your bra shelf!), until you right yourself. However, if the slight potential for immodesty doesn't phase you, or you never flip upside down, this is a perfect option. Great for sweaty aerobics and hot yoga, or really any workout.
Most helpful positive reviews
Most helpful negative reviews
Similar items and more information in the following areas: